Lancs PCC: Police Funding Needs Re-Think
9 April 2018, 15:37 | Updated: 9 April 2018, 15:41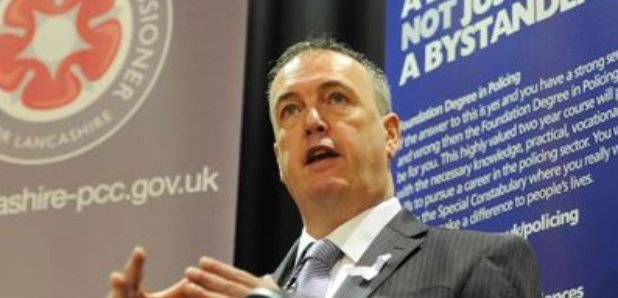 Lancashire's Police and Crime Commissioner is calling on the government to reconsider police funding amid increasing demands on police, as the Home Secretary's latest announcement contained no new money to tackle violent crime.
The potential link between police officer cuts and a surge in violent crime has not been analysed in the Government's new serious violence prevention strategy, despite a leaked Home Office document suggesting cuts "likely contributed" as an "underlying driver".
The document contains an otherwise detailed examination of the multiple complex causes of violent crime and sets out a series of measures the Government proposed to take.
The strategy, launched by Home Secretary Amber Rudd today, identifies changes in the crack cocaine market as a key driver of the crime wave, but makes no reference to the more than 20,000 cuts to police officers in England and Wales since 2010.
Despite officials claiming academic research shows there is no clear link between officer numbers and rising crime, no such research findings are included in the final document.
Lancashire's PCC Clive Grunshaw says austerity in policing should be urgently reviewed: "While the Government continue to highlight the need for additional resources for policing, they are failing to provide any extra money.
"In fact they have now forced the burden of funding policing onto local council tax payers.

"The reality is we are seeing more and more people contacting the police, with Lancashire having the highest volume of calls for its population outside London. The demands being placed on the force continue to put a significant strain on frontline policing.

"I agree that crime is complex and for years Lancashire Police have been leading the way through early action interventions with vulnerable children, families and adults.
"This approach can tackle the root causes of offending and prevent people from getting involved in more serious crimes but this is only sustainable with the right funding.

"I have also supported communities themselves to help tackle crime and keep Lancashire safe, with almost £350,000 of funding last year for locally identified projects and initiatives.

"Time and again I have said the government must open their eyes and understand the impact that austerity in policing, and throughout the public sector, is having. Sadly, when the time has come for action, all we get are rehashed policies and no extra resources."

Since 2010, Lancashire Constabulary have had to make over £84m of savings and still have to make an estimated £18m more by 2022, despite Government claims that police budgets have been protected.

These reductions have led to the loss of around 800 officers and 350 police staff which include PCSOs as well as other staff.