Man Fined For Disturbing Ospreys
16 August 2018, 07:11 | Updated: 16 August 2018, 07:13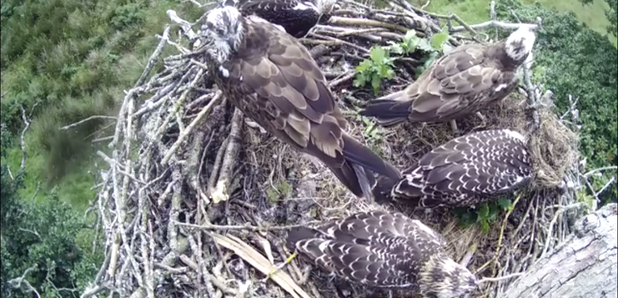 A man who ran his own tours to let people see ospreys in the Lake District has been fined for disturbing them.
Magistrates ruled Paul Barnes had acted recklessly, putting the breeding of the pair at Bassenthwaite at risk.
Annabel Rushton from the Lake District Osprey Project said: "A huge effort has been made to bring the osprey back to Cumbria and here at The Lake District Osprey Project. Local staff and volunteers have worked tirelessly to ensure the birds can nest in safety, while enabling visitors to be inspired by these wonderful birds from the designated public viewpoints at Dodd Wood and Whinlatter. Barnes acted recklessly by running his own tours which did not follow the correct protocol and resulted in the disturbance of the Bassenthwaite pair of ospreys, which could have been detrimental to their breeding success.
"We would like to thank Cumbria Police for their support and diligent work in this case."
Barnes was fined £300 with £2,000 costs at Workington Magistrates Court after a three-day trial.
Like all wild birds, ospreys are protected by law under the Wildlife and Countryside Act 1981 and it is a criminal offence to harm or disturb them during the nesting period.
PC Sarah Rolland of Cumbria Police said: "Laws are in place to protect all species of birds and, without these laws and their enforcement, these birds will be put at great risk. The osprey is a rare bird in the UK and therefore has a high level of legal protection under Schedule 1 of the Wildlife and Countryside Act 1981. A disturbance like this during the nesting period could be detrimental to their breeding success and their very existence within the UK.
"In this instance, there was a clear offence of disturbing a Schedule 1 bird, whilst having young in the nest during the nesting period. This was fully investigated resulting in a charge following a CPS charging decision.
"We hope that today's result will serve to highlight the importance of adhering to these laws and serve as a warning to others that there will be consequences if the laws are ignored or willfully broken in relation to wildlife crime."
The Lake District Osprey Project, a partnership between the Forestry Commission, the RSPB and the Lake District National Park Authority, aims to ensure the continued success of breeding ospreys at Bassenthwaite. Since the birds returned in 2001, ospreys have raised over 30 chicks and delighted over a million visitors there.
There are 21 breeding pairs in England, and are worth £2million per year to the Cumbrian economy.