Memorial For "PC Crag", 170 Years On
25 September 2018, 09:43 | Updated: 25 September 2018, 09:46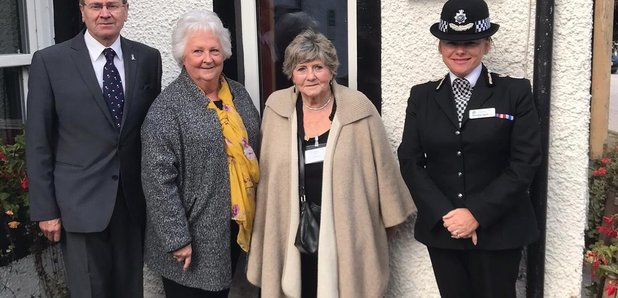 A memorial to a police officer who died on duty in 1847 has been placed in the Lake District.
PC James Armstrong's identity was only revealed by research by a Cumbria Police staffer two years ago.
Previously, he'd been the nameless protagonist of the story of "Policeman Crag" - who fell 300ft to his death while returning from a case in Pooley Bridge.
The last place he was seen alive was the Royal Hotel in Dockray, where a plaque's now been put up in his honour.
Chief Constable Michelle Skeer, Cumbria Constabulary, said: "It was a privilege to be invited by The Police Memorial Trust to pay tribute to PC Armstrong as it is important to recognise those that have died in the line of duty. The unveiling of a plaque is incredibly fitting for a man who paid the ultimate sacrifice performing his public duty.
"The plaque also marks a key moment in our local history. I hope those that visit the area take the opportunity to view the memorial and take a moment to help ensure that James Armstrong will not be forgotten."
Cumbria's Police and Crime Commissioner Peter McCall said: "I feel very proud – and humble - to be part of this very important ceremony in memory of PC Armstrong. I am very grateful to the Police Memorial Trust for the good work they do to ensure that our fallen officers are not forgotten, and the plaque will certainly provide a focal point to help keep his memory alive."
Mrs Geraldine Winner, Chairperson of The Police Memorial Trust, said: "I am very pleased to be here in the beautiful county of Cumbria in place of my late husband Michael Winner to remember the service and sacrifice of Police Constable James Armstrong.
"This is the 46th time the Police Memorial Trust have stood with the families of officers who have died on duty to remember their loss.
"It's absolutely right that the landscape of Dockray should change just a little to accommodate a permanent reminder to its citizens, and those passing through, of the life and death of Constable James Armstrong."