Men Jailed For Raping Women In Cumbria
26 October 2018, 17:53 | Updated: 26 October 2018, 17:58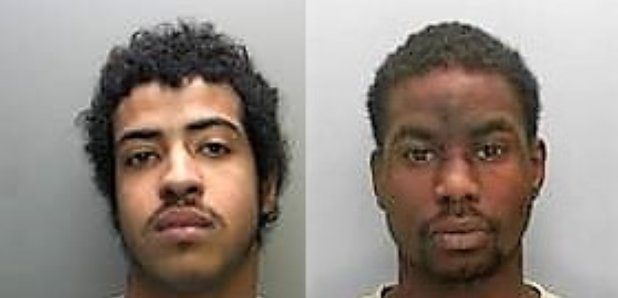 Londoners, Paul Kariuki and Fowzi Hlal were sentenced today
Two men who raped women in Cumbria and Sussex whilst using their addresses as a base to sell drugs have been jailed for 30 years.
Londoners, Paul Kariuki, 20, of no fixed address, and Fowzi Hlal, also 20, previously of Rydal Way, Enfield, were both given 20-year extended sentences when they appeared at Hove Crown Court on Friday (26 October).
The first 15 years are custodial, and the other five years will be spent on prison release licence supervision. They will both serve at least 10 years in prison custody before they can be considered for parole.
They had been found guilty at the same Court on 30 July.
Hlal was convicted of raping both woman and money laundering.
Kariuki was convicted of raping both women, possession of crack cocaine with intent to supply, and causing actual bodily harm to the woman in Carlisle.
Detective Constable Tim Prangnell said:
"This was a complex case that involved working in close partnership with our colleagues from Sussex Police and the South East section of the Crown Prosecution Service. It was from this joint working initiative that the court in Brighton were able to hear the true extent of the organised criminality of Paul Kariuki and Fowzi Hlal.
"Both males, from their base in North London, travelled hundreds of miles across the length and breadth of the UK, seeking to set up a national distribution network for their illegal trade in heroin and crack cocaine.
"These heinous sexual offences were a 'by-product' of County Lines Drugs Supply. In order to achieve control over such a lucrative market, they chose to viciously violate, both sexually and physically, some of the most vulnerable women in society, taking over their homes and treating them in the most degrading manner. This is referred to by police as cuckooing.
"They assumed that these women would not have the courage to tell police their story, or the trust in the police to believe and support them. They could not have been more wrong".
Detective Chief Inspector Helen Harkins added:
"The strength that these women have shown over the past eighteen months leading up to the conviction of their attackers is amazing. There is absolutely no doubt that without their evidence, these two men would have remained free to prey upon other vulnerable women.
"These results represent Cumbria Police's commitment to tackling County Lines drugs supply; Cumbria Police will work tirelessly to identify, disrupt and deter exploitative drugs supply in our communities and bring offenders to justice. I hope that today's sentencing brings some closure to these women and that they can move on with their lives."
Detective Sergeant Kirsty Murray, of Sussex Police said:

"This investigation spanned across a number of different units and two police forces. As a result of the hard work and dedication of the officers involved two dangerous and predatory offenders have been convicted and two vulnerable victims have received the justice and support they deserve.

"From an early stage in the investigations both Detective Constable Becky Hazzard in Littlehampton and Detective Constable Tim Prangnell in Carlisle worked tirelessly to maintain victim support and to bring these cases together so that the trials could be joined. This undoubtedly strengthened the prosecution case and ensured compelling evidence was heard by the jury.
"This case sends a message to others that victims of 'cuckooing', reinforced by sexual violence, will be listened to, their disclosures will be fully investigated and the offenders brought to justice wherever possible."