More People Stopping Rail Suicides
7 November 2018, 06:17 | Updated: 7 November 2018, 06:20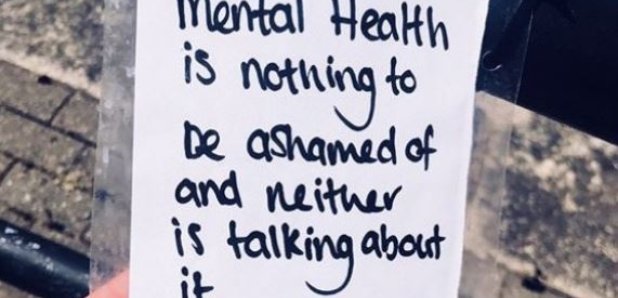 There's been a big rise in the number of people stepping in to prevent suicide on railways.
163 interventions were made by members of the public between January and September - a 20 percent increase on the year before.
Jess Johnson, from Lancashire, has been leaving positive messages on bridges across the Northwest - to help people who are struggling: "They have such a great response. I just put them everywhere. The messages that I get back - it's, like - you've proper cheered my day up. That makes me happy. By helping them, I'm helping me."
Jess suffered post-natal depression and says more people are trying to help each other these days: "It's changing now. People seem to be looking out more for people and trying to help.
"It's sad, really. Because quite a lot of people do go through this - so they know - but they're not talking about it."
Jess told us about a message she received from someone who'd spotted one of her notes: "It just made them feel less rubbish or less alone. Then they've read the story about why I'm doing it and it just makes them think 'You know what? Yeah, it does get better'."
Today's figures come from the Small Talk Saves Lives initiative, which emphasises that "each of us has all the experience we need to help save a life".
TV and radio presenter Gaby Roslin features in a campaign video and station announcement after stopping to talk to someone in a park when she noticed something was wrong.
She said: "Little conversations we have every day can be all that's needed to interrupt suicidal thoughts.
"Once you know that you have the power to make a difference, you're more likely to step in and do something."
Samaritans chief executive Ruth Sutherland described the increase in interventions by passengers as "really heartening".
She went on: "Even if small talk doesn't come naturally to you, if something doesn't feel right, please try to start a conversation. There's no evidence you'll make things worse."
Head of suicide prevention at Network Rail Ian Stevens said: "Realising another person cares enough to stop and talk to you can make all the difference. It can be the first step on that road to recovery."