Morecambe FC Sold - Again
1 May 2018, 11:29 | Updated: 2 May 2018, 12:48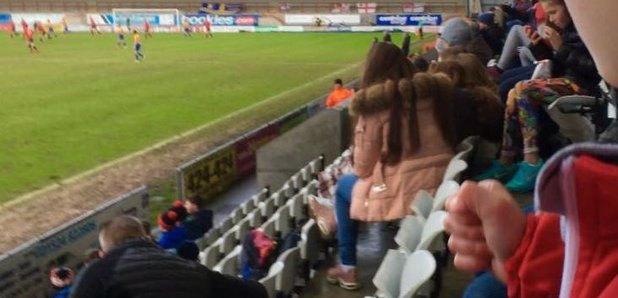 Morecambe Football Club has been sold, again - days before their football league future is decided.
London-based Bond Group Investments Limited are now the majority shareholders.
It ends a couple of years of uncertainty off-the-pitch following the debacle of Diego Lemos' short-lived reign.
Chairman Peter McGuigan says the club can look forward to "stability and growth".
The Shrimps could be relegated from the football league this weekend if they lose to Coventry and Barnet beat already-relegated Chesterfield.
Fans are being offered free coach travel to that game.
Chairman Peter McGuigan said: "We are very pleased to confirm this transaction and look forward to a period of sustained stability and growth within the Club.
"On behalf of the Board I would like to thank everyone connected to the Club for their patience and outstanding contribution during a difficult period for all concerned over the last few months."
Heart spoke to Morecambe supporter and pundit Glen Cooper, who said: "If it's a move that can tie up all the loose ends over the past two years then Morecambe fans will be pleased.
"I think the concern is the brevity of the statement. I mean usually if it's someone coming that has great plans for the future and future investment, then the outgoing and incoming owners would usually make a big fanfare of that.
"Fans are bound to be concerned by the latest development as there is not much known about the company that are cited as taking over the shares.
"That kind of detail and the personalities involved in the takeover might come in the coming days, but if it doesn't then it will be a real worry at a time when Morecambe go into the most important weekend and two games of their entire football history.
"If we don't get that kind of positive statement of intent and proposals for investment over the next few season from the new owners, it'll be a real worry.
"If they have plans and investment proposals to safeguard Morecambe's future over the next couple of years, you would think they would be wanting to announce that this week as a boost going into that final Saturday.
"We may be doing the outgoing-board and incoming owners a disservice but on the evidence so far we have no other information to go on other than something that makes us worried.
"The real story at Morecambe has been the off field uncertainty and it doesn't help anyone.
"The investment at Morecambe has been the lowest of any football league club.
"I personally think the manager [Jim Bentley] deserves better than he been getting and he's put heart and soul into it.
"He takes pride in the job, he lives and breathes it. If Morecambe have a game postponed he doesn't go and put his feet up, he goes and watches another game because he might be scouting a player.
"I think the off field turmoil has got on top of him a little bit and it is just whether he can sort of shake that out of his system to motivate the players this weekend as he has done on numerous occasions.
"He has been the one that's been holding it all together.
"We are talking in the dark because we don't know what is happening behind the scenes but it is worrying until we get that kind of positive commitment.
"You would have thought that a statement about new ownership would be more than one paragraph on a club website."
More to follow...