MP: Creaking Infrastructure Must Improve
31 March 2018, 06:36 | Updated: 31 March 2018, 06:40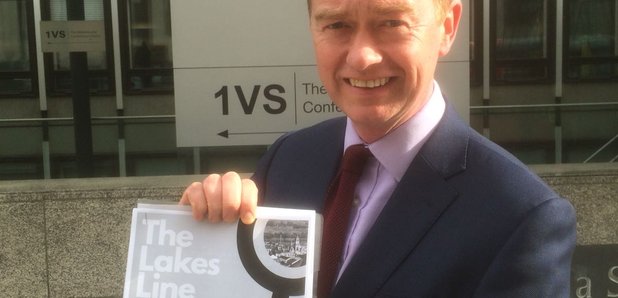 The South Lakes MP wants better roads, trains and broadband so the Lake District can take full advantage of its World Heritage Site status.
Tim Farron has pressed a business minister on investment in what he described as the current "creaking" infrastructure, which is holding back local businesses taking full advantage.

In a meeting with business minister Andrew Griffiths, Mr Farron made the case for upgrades to the Lakes Line, better broadband access and further investment into strategic roads across the Lake District.
Earlier this week
, Mr Farron was hightly critical of the government's backtracking on plans to electrify the Lakes Line between Oxenholme and Windermere.

He said: "In the week we have celebrated World Heritage Site status, many local businesses will be looking to take advantage of the Lake District's higher profile.

"However, all too often they are held back by creaking infrastructure.

"As more tourists visit the Lake District, we need better train services, better roads and as businesses expand, they are increasingly reliant on superfast broadband.

"However just last month the Government left out the main road through our area, the A591, from its Major Road Network.

"Government now needs to fulfil its obligations so that World Heritage Site Status is a success."
The Prince of Wales paid a visit to Cumbria on Monday to unveil a plaque to mark the World Heritage Status, awarded by UNESCO last year. You can read more about Prince Charles' visit,
here
.