MP Shown Progress On Greyhound Bridge
12 June 2018, 14:48 | Updated: 12 June 2018, 14:59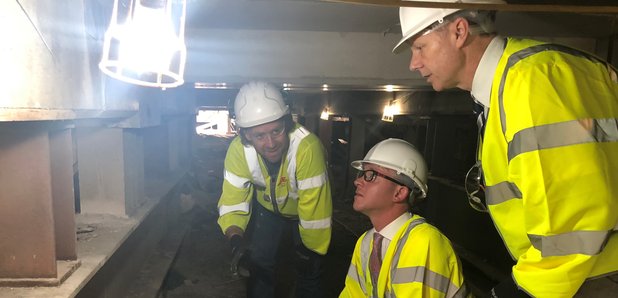 Lancaster's Greyhound Bridge shouldn't need any more major work for nearly 100 years after the current renovations are completed, Morecambe's MP has been told.
David Morris has been shown the inner-workings of the massive engineering project by Lancashire County Council.
Mr Morris said: "The bridge is being futureproofed so that worst case scenario it lasts for another 95 years without needing further work.
"The work that is currently being carried out on Greyhound Bridge is absolutely vital to the economic future of Morecambe and Lunesdale, and is precisely why I secured £4.6 million pounds from Central Government to carry out the project.
"What was interesting is to see the sheer scale of the work being carried out. All of the joints on the bridge are being worked on with some being completely replaced.
"The Steel rods holding the bridge together are being replaced to ensure the bridge is as strong as possible. The bridge will then be fully resurfaced.
"The work being done is to rectify water damage which has happened over the years and strengthen the whole structure of the bridge.
"The roadway is built on top of what used to be a railway so both the bottom and upper structure where the road now runs are being renovated."
The bridge is expected to re-open in the middle of September, having been pushed back from mid-summer following the discovery of more damage to the crossing than expected.