MPs Unite For "Shambolic" Trains Meeting
24 May 2018, 13:59 | Updated: 24 May 2018, 14:20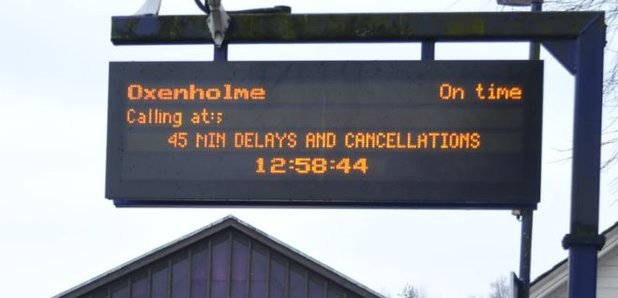 Cumbria's MPs are teaming up for a meeting about what they describe as the "shambolic performances" by train operator Northern, in recent months.
The special summit's being held in Westminster at the end of June.
Upgrades to trains aren't expected until at least next year.
The MPs say they expect top-level attendance from Northern Rail and other rail bodies - and hope local council leaders will be able to attend.
Rail minister Jo Johnson will also be asked to take part, along with Greater Manchester mayor Andy Burnham after he added his voice this week to calls for change.

Furness MP John Woodcock said: "Passengers are at breaking point with the dreadful state of the Furness, Cumbria coast and Windermere lines and we are tired of being ignored.
"I am pleased to be working together with my colleagues to bring to Westminster the frustrations out communities are facing.
"There has so far been a truly shocking lack of response from government on the north's rail nightmare but we are determined to keep pushing for action.
"We hope this crisis meeting will help focus minds."
Meanwhile, South Lakes MP Tim Farron has criticised the Government for saying that they would not intervene to put a stop to the mass cancellations.
At Transport Questions in Parliament, Mr Farron urged the minister to listen to commuters and intervene to strip Northern of both the Furness and Lakes Line franchises.
However, in response the Transport Secretary Chris Grayling said that the current problems on both lines were the fault of Network Rail and not Northern or the Department for Transport.

Speaking afterwards, Mr Farron said: "Hundreds of GCSE students continue to be stranded on train platforms across South Cumbria, while people are being forced to miss hospital appointments and days at work.

"It is simply not good enough for the Secretary of State to pass the buck. It was the Government who took the lines off TransPennine and handed them to Northern in the first place.
"It was the Government who scrapped plans for electrification which has led to chaos with diesel trains having to be found from elsewhere, and drivers retrained.
"This is their mess as much as it is Northern's and they need to get a grip."
The number of trains cancelled on the Lakes Line since the beginning of April is well over 300.