New Blood Bike In Memory Of Russell
17 July 2018, 06:23 | Updated: 17 July 2018, 06:25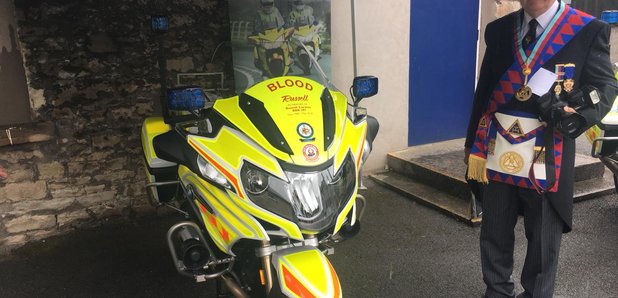 A new motorbike's been bought for the North West Blood Bikes in memory of Russell Curwen, from Kendal.
He was on voluntary duty delivering blood samples when he was killed in a crash in Lancaster earlier this year.
Kendal's Freemasons presented the bike to the charity last night (Monday).
Russel's father, Ken, said: "The Blood Bikers have been so attentive in looking after us. And the neighbours and our friends. It's overwhelming.
"It's a sad occasion, but it's unbelievable."
He remembered Russell as a much-loved personality: "All the nurses would go up to him and give him a hug. They all knew him by name because he was that sort of lad.
"I thought to myself 'I wish I was as popular as him when I was that age!'"
A spokesperson for the Freemasons added: "Russell was very much liked and loved by all who knew him and this presentation is a very poignant occasion.
"At the same time [it's] recognising his commitment to the Blood Bikes Charity as a volunteer rider - his unselfish dedication will have saved countless lives and helped the sick and infirm."