Options Presented For Grizebeck Bypass
18 October 2018, 07:37 | Updated: 18 October 2018, 07:40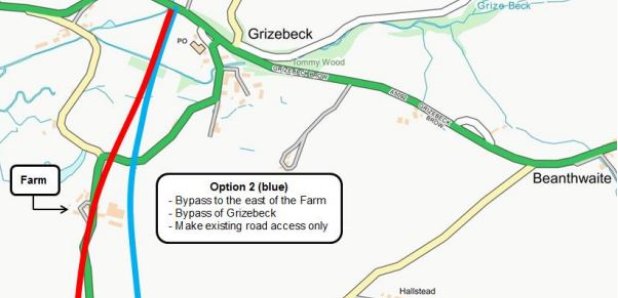 Two options have been put forward for the Grizebeck bypass.
It'll also have to deal with the bottleneck on the A595 at Dove Ford.
One proposal is to simply knock down the farm buildings and widen the existing road; the other would see a new road built to the east.
A public drop-in on the plans is being held at Grizebeck Village Hall tomorrow.
Cllr Keith Little, Cumbria County Council Cabinet member for Highways and Transport, said: "The A595 Grizebeck bypass is a really important scheme for Cumbria which will not only improve journey times and help boost the county's economy but also create a safer and more resilient road between Barrow and West Cumbria. The county council has identified two possible routes for a bypass and we are now launching a public consultation. I'd strongly encourage people to take the time to get involved, read the consultation document and attend the events - it's important that local people have their say, so we can develop the best possible scheme."
More information about the A595 Grizebeck improvement proposals is available online here.