Osprey Flowers Nest To Impress New Flame
8 May 2018, 17:13 | Updated: 8 May 2018, 17:20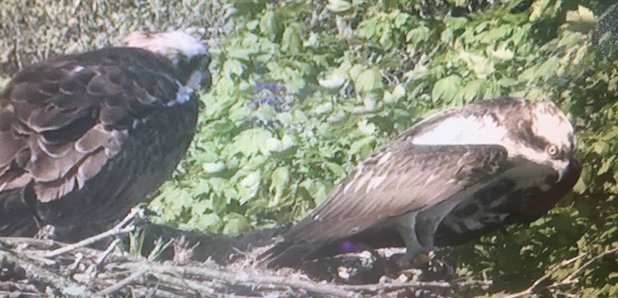 The male Osprey at Bassenthwaite has moved on with a new partner already - after getting dumped by his previous one - just a few days into their relationship.
The rare bird of prey - known as "Unring" due to his lack of an ID ring, returned to the Lake District nesting site earlier this year with a new mate, who'd replaced his previous partner of several years.
His latest partner quickly abandoned him though - leaving him alone at the nest for a few days before another new mate showed up.
The Lake District Osprey Project team says it's delighted he's "finally found love" - adding that he's put flowers in the nest to impress her.
Cath Johnson from the LDOP said: "It has certainly been a dramatic start to the season this year!
"Several Bassenthwaite osprey fans have been asking why KL (the long-term partner) hasn't returned, but as she is not satellite tagged, we can't know for sure unless she is found or photographed.
"There were a lot of ospreys arriving back late this year, due to severe weather further down their migration path, so we weren't worried at first. However, she would not have been delayed for this amount of time.
"Ospreys spend the winter in West Africa, so have a long journey to the UK in spring. Natural dangers such as weather and predators, as well as human-caused problems such as the loss of fishing habitat for feeding en route, or shooting, can affect their return.
"There are a lot of potential perils for migrating birds to overcome.
"It is sad that KL has not come back this year, as she has bred for the previous five seasons at Bassenthwaite and was a great mum, hatching 13 chicks in that time.
"However, this new female arriving this weekend has raised our hopes of having chicks this year, as the pair have been seen mating, and Unring has been adding flowers to the nest, so he is trying to impress her.
"We're keeping our fingers crossed for them."