Plea To Fix Blood Biker Crash Railings
11 October 2018, 06:50 | Updated: 11 October 2018, 11:04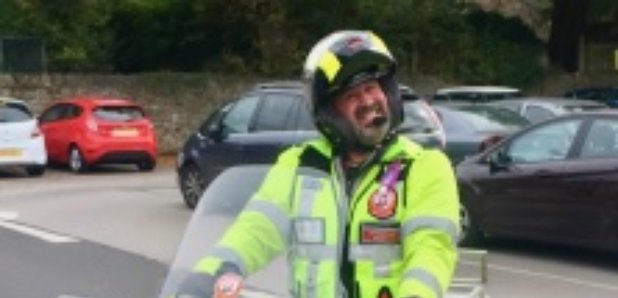 A friend of the late Blood Biker Russell Curwen says he's being permanently reminded of his death.
The volunteer rider, from Kendal, died in a crash in Lancaster - the railings where it happened still haven't been repaired, six months on.
His friends want the fencing fixed so they can remember his life instead.
Pete Birkby knew Russell and says driving by upsets him: "There are a lot of people who don't even know Russ and they also think it's horrible and it's not nice to see. They get upset about it and, as I say, they didn't even know him.
"Whether it was Russ's bike which hit the railings, or the car, we don't know. There's one cone, I think, and it just looks rediculous. It's heart-breaking."
Pete says he's no problem with some sort of positive reminder of what happened: "Across the road from the railings there are flowers and stuff like that. So it would be nice for them to stay there so at least people could look at it and think of it in a nice way - rather than get upset looking at the railings where someone's lost their life."
He can't believe nothing's been done in half a year: "It should've been sorted out ages ago. I just think it's not a big job for somebody to change some railings when they've spent millions on this new road. It must probably only be a day job to get it done and get it rectified."
Russell was on duty taking a blood sample between Westmorland General and Lancaster Royal Infirmary when the accident happened back in May.
His funeral saw 500 motorbikes join the cortege.
A spokesman for Lancashire County Council said: "We are aware of the tragic circumstances surrounding Mr Curwen's death and our thoughts are with his family and friends at this difficult time. Work is planned to replace these railings later this month."