Police Back Knife Amnesty
17 September 2018, 06:07 | Updated: 17 September 2018, 06:10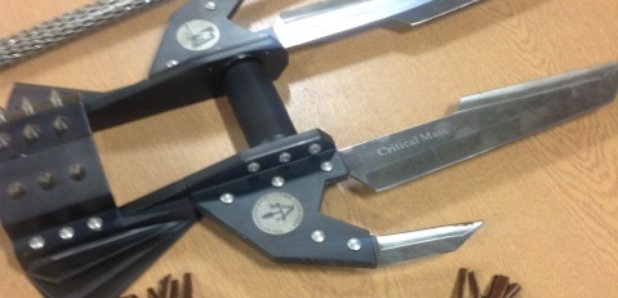 Anyone who wants to give up a knife can do so at police stations across Lancashire and Cumbria from tomorrow (Tuesday).
It's a week-long amnesty, where people won't be prosecuted for possession.
Blades can be handed over in Morecambe, Kendal and Barrow.
Superintendent Mark Pannone, of Cumbria Police, said: "In recent surrender periods we have seen large numbers of people take the opportunity to make their communities safer by handing in knives.
"Fortunately in Cumbria we do not have a specific knife-crime culture and we continue to see a lower number of incidents than in other areas of the UK. However, there are people who will use knives as part of criminality and I can reassure members of the public that this will not be tolerated.
"Despite the low numbers the Constabulary is not complacent and there is a lot of work that is conducted to reduce the impact knives can have. Officers and PCSOs hold regular sessions with schools and youth groups to educate young people on the danger of knives and also dispel the myth that carrying a knife is good for their reputation.
"Every knife that is handed into police is one less knife that cannot be used in criminality. I would encourage anyone who has a knife that they want to safely dispose of to take this opportunity to do so."
Cumbria's Police and Crime Commissioner Peter McCall said: "We have seen the appalling results of knife crime in London and other cities recently with tragic deaths and injuries, no one is a winner and government are looking to increase penalties for those involved. Knife crime destroys lives. There is no circumstance where carrying a knife as a weapon is acceptable and, while some people wrongly perceive that a knife offers them some kind of protection, in reality it only serves to make them more vulnerable while placing those around them at greater risk.
"Every knife surrendered is one less that can cause death, destruction and misery so I hope anyone who owns a knife – young or old – will take this opportunity to surrender their weapon and dispose of it safely."
Chief Insp Mark Baines, Lancashire Police's co-ordinator for the knife surrender, said: "While knife crime is not a major problem in the county, a knife is a lethal weapon – even one on Lancashire's streets is one too many.
"During our last campaign in February, 106 knives were surrendered to police. Among the weapons given up were combat knives, kitchen knives and large blades.
"I hope that our communities will again help us to remove such items and help to keep everyone safe.
"If anyone is in possession of a knife and is unsure what to do about it, I would urge them to take this opportunity to dispose of it anonymously and safely.
"In particular, I want to appeal to youngsters who may be tempted to carry a knife because they believe it offers them protection. Having a knife in a public place is a criminal offence, with young people more likely to be stabbed and seriously injured with their own weapon.
"I would also ask people to provide us with information about knife crime in their area.
"If you know your partner regularly carries or uses such weapons, please encourage them to hand these weapons in over the next week without fear of prosecution.
"Don't run the risk of ending up with a criminal record, a life-changing or even worse a potentially fatal injury."