Porpoise Rescued By Morecambe RNLI
27 May 2018, 10:04 | Updated: 27 May 2018, 10:32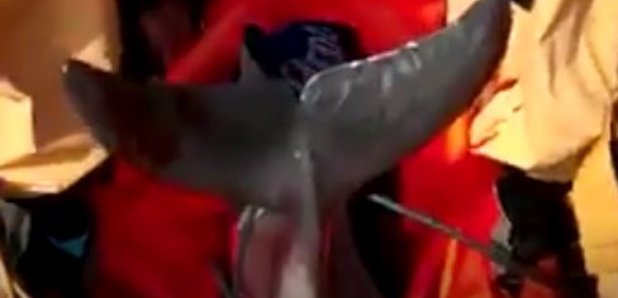 A porpoise swam back out to sea safely this weekend, after being rescued by Morecambe's RNLI crew and marine wildlife drivers.
It had become stranded at the coast of Arnside on Saturday afternoon.
Members of the British Divers Marine Life Rescue team were also called, before it was released in deeper water at Heysham.
An RNLI spokesperson said: "The porpoise had become stranded near the Arnside Coastguard Building, about 25 metres from the shoreline.
"A member of the public called the British Marine Life Rescue 24 hour helpline to report the distressed porpoise.
"The Coastguard team members, British Divers Marine Life Rescue members and the RNLI crew worked closely together to ensure the porpoise did not become overheated and further distressed.
"It was decided to use a basket stretcher to lift the porpoise on to the RNLI inshore rescue hovercraft and transport it to deep water near Throbshore Point, Heysham, to release the porpoise safely and successfully back to sea."
Morecambe RNLI volunteer Hovercraft Commander, Andrew Wright, added: "This was quite a difficult rescue operation due to the strong wind conditions.
"Morecambe's volunteer lifeboat crews will always assist other emergency services and in this case it was a great team effort by all concerned, which resulted in a very successfully outcome.
"It was a great feeling watching the porpoise swim back out to sea."
You can see the RNLI's video on the Heart North Lancashire & Cumbria Facebook page, here: https://www.facebook.com/HeartNLCNews/