Pothole Repairs Begin In Lancashire
4 July 2018, 10:54 | Updated: 4 July 2018, 11:02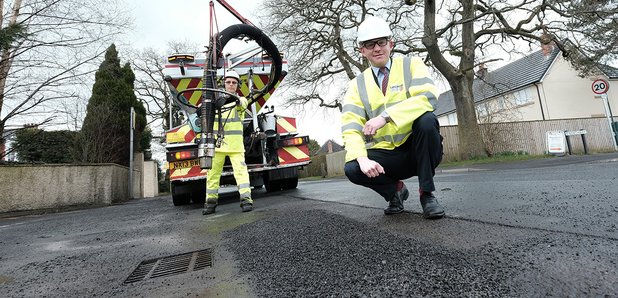 Work to fix Lancaster's potholes is now underway.
As part of a £26 million programme, Lancashire County Council will be carrying out road maintenance across the year.
Surface redressing will cost around £4 milllion and progress can be tracked on the council's website.
County Councillor Keith Iddon, cabinet member for highways and transport, said: "Surface dressing is a treatment that we use to extend the life of roads which are still in reasonably good overall condition. Every road will eventually get to the point where it needs to be fully resurfaced, but this is a quick and cost-effective treatment, and can extend the life of a road for around 10 years.
"This is an area of highway maintenance where we have taken advantage of improvements in technology by using the data gathered from camera surveys to target this treatment at the optimum point in the lifecycle of a road.
"We'll need to put in place road closures whenever we carry out surface dressing, and would ask people to bear with us while we do this vital maintenance. We'd also ask that people take note of the 'no parking' signs that are put out before the work begins, and avoid walking on the newly laid surface as far as possible until it has hardened.
County Councillor Iddon added: "Our roads have suffered due to the winter being colder and wetter than average, however we're now making the most of the summer weather to bring them back into better condition.
"We've set aside £13m of the budget for road maintenance to carry out small scale repairs to potholed and damaged areas, with the rest for planned maintenance such as surface dressing and resurfacing which renews roads and helps prevent potholes appearing in the first place."