Poverty Fight Can Only Be Won "Together"
16 April 2018, 12:58 | Updated: 16 April 2018, 13:09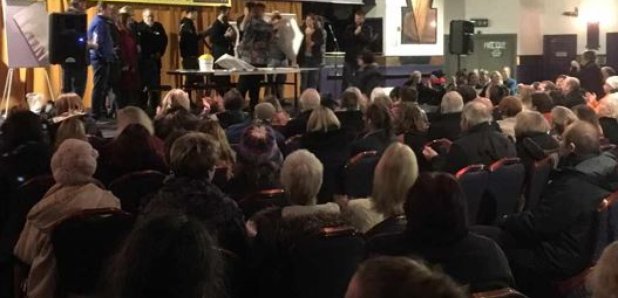 The fight against poverty in Morecambe can be won - but only if people who live in the town continue to fully support it, Heart's been told today.
Sustainability Morecambe has been updating Heart on how different groups have been working together to help, after a series of huge public meetings.
Joanne Ainscough says people have to keep running with the ideas raised.
She told Heart: "These things have to be sustainable otherwise you get the same volunteers and they get worn out, then the project suffers as a consequence of that.
"We don't want that. There's 60,000 people in the Lancaster and Morecambe area, so we want people to be part of it.
Joanne's comments follow three public meetings in Morecambe - the first of which, in December, attracted more than 300 people.
She continued by telling Heart the team effort must evolve and grow naturally, without the need for further "reminder" meetings.
"As it starts to begin to be much more cohesive on the ground, then the conversations don't need to carry on because they'll be happening in the community every day and we'll see that change", Joanne added.
The meetings encouraged attendees to break off into 15 groups to discuss their own ideas about how to work together to help ease the poverty problem, awareness of which was sparked by a news report on national TV about the extent of the problem.
It found even working mums and dads were struggling to feed and clothe their children.
Health figures, teachers, councillors and church leaders joined community groups at the Alhambra and Carleton Suite, where it was recognised there'll be "no immediate answer or solution".
The meetings were non-political in nature but politicians were there to discuss what they could be doing.
Heysham councillor Colin Hartley said existing support was overstretched: "They're doing a sterling job but it would be great if somebody can come up with some other ideas.
"My wife works in the Foodbank and it's really stretched. Last Friday (before the first public meeting) was one of the busiest days ever with people desperate for support."
Conservative Lancashire County Councillor Charlie Edwards said the authority was there to help: "Please, ask for it. We've got a number of programmes, a number of ways in which we can provide direct support to those who need it."
Meanwhile, his Labour colleague Erica Lewis said big social change was needed: "Whether that's housing, or benefits that you can live on, or actually fixing the amount of in-work poverty so that people who have a job can over their own expenses."
Carnforth GP Andy Knox was instrumental in getting ball rolling. He closed proceedings at the intial meeting by saying: "These conversations will not just remain as conversations. They feed into board meetings. They feed into all kinds of stuff.
"But this isn't just about this conversation being finished and now people in power have to do something about it.
"This is about us building relationships, breaking down barriers and finding new ways forward, together."