Prince Harry's Soldiers In Grasmere Trip
17 April 2018, 15:31 | Updated: 17 April 2018, 16:16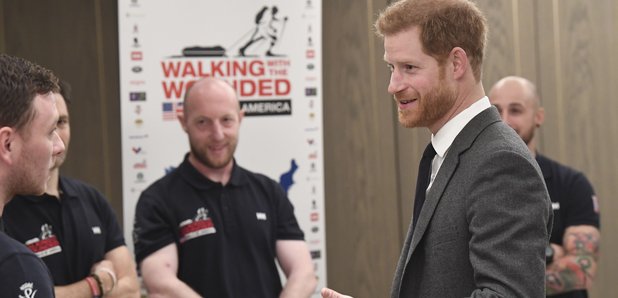 Two soldiers who Prince Harry revealed will be taking part in Walking With The Wounded's 'Walk Of America' challenge this summer, will be in the Lake District on the Royal Wedding day.
Kevin Carr and Jonny Burns will be at the charity's Cumbrian Challenge in Grasmere next month, getting in some extra training miles ahead of their 1,000 mile expedition across the States.
The pair - who are currently based at a homeless residence in Catterick, will be meeting and walking with hundreds of fundraisers at the event.
The Cumbrian Challenge is now in its sixth year and will break the £1m barrier for money raised by the event for Walking With The Wounded's programmes supporting ex-military back into independence and employment.
It sees teams of four take on one of three challenging routes in the Lake District alongside teams of wounded ex-servicemen and women.

Prince Harry officially launched the American expedition in London last week - and Kevin, from the Royal Logistics Corp, spoke shortly after the Prince, telling how he came back from the brink of taking his own life after struggling with mental health issues.
Kevin said: "I feel honoured and privileged to be part of this unique challenge and have the opportunity to help other veterans and raise awareness that there is support available – no-one should suffer in silence."
Jonny added: "I am very excited to be given the opportunity to be on the Walk Of America team. As much as it will be amazing to explore America and visit some amazing places it will also give me the opportunity to highlight the support open to veterans in the UK that may be suffering in silence.
"Just because everything looks good on the outside does not always mean that everything is ok on the inside.
"It is very easy to put a front up and pretend everything is ok but through my own experience I know that if these issues are unresolved, they do come back and cause problems later in life."
Starting in LA on 2nd June and finishing in New York on 6th September, the team will walk by some of America's most iconic cities, landmarks and communities in the US who have done so much to support those who have served.

The team will walk through Texas, the heart of the US military family, through Colorado, to Kansas City and Chicago, then down from Nashville to the eastern seaboard, before finally finishing in NYC.