Prince In Lakes For World Heritage Event
26 March 2018, 14:33 | Updated: 26 March 2018, 14:39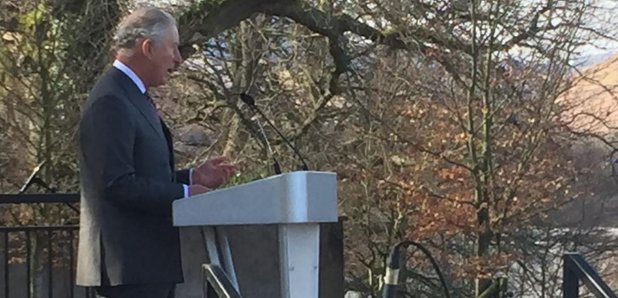 The Prince of Wales was the guest of honour at a special event today, to mark the Lake District as a World Heritage Site.
Prince Charles attended the event at Crow Park in Keswick, where he unveiled the official UNESCO plaque to mark the designation.
Mike Innerdale, National Trust Regional Director of Operations, said: "We're delighted to welcome and host the official UNESCO World Heritage Site inscription plaque on National Trust land at Crow Park on behalf of the Lake District World Heritage Partnership.
"Crow Park could not be a better choice. It's played a crucial role within the Lake District's World Heritage story; bearing witness to the way that people have shaped the landscape of the Lakes.
"It's played a part in the discovery of beautiful landscapes, and as the location of a pivotal moment that shaped how we value and conserve landscapes.
"We're honoured to have our roots and way of conserving landscapes recognised as globally significant."

Chair of the Lake District National Park, Richard Leafe, told Heart: "He's a regular visitor to the valley just up here of Borrowdale.

"He knows and understands the farming community here and he really appreciates the landscapes that we have. So he genuinely does intimately understand what the World Heritage designation recognises".

While preparing to officially mark the occasion, the Prince quipped: "Ladies and Gentlemen, it now gives me the greatest pleasure to unveil this, as I get older and shrink ever-faster, this very low plaque!"

Mr Leafe continued: "We couldn't have had better weather and His Royal Highness gave an excellent speech which managed to touch on all the important facets of why the Lake District is a World Heritage Site."

Lord Clarke of Windermere is Chair of the World heritage Site campaign. He said: "It's just been great. Today was the icing on the cake.

"To have Prince Charles come with so many other people from across Britain, plus all the local people who showed their support for what we were trying to do, it's just been a great day today."

Sheila Hughes is the Headteacher of St Herbert's Primary School, whose pupils performed a dance for the Prince.

She told Heart: "It was quite scary and probably the most important performance we've ever done but it was fantastic.

"He said he enjoyed the music and he was obviously enjoying his time in Keswick and you could tell from his speech that he liked coming here".

"It's just been a really happy morning. It's been fantastic", she added.

The children involved said it was one of the most memorable days of their lives, telling Heart: "It's was really fun and a good experience to do".

"When we're older we can tell everyone that we met Prince Charles – and it was good to miss school", another youngster laughed.
You can see photos of Prince Charles' visit on the Heart North Lancashire and Cumbria Facebook page,
here
.