£700k Revamp For RLI Children's Unit
26 October 2018, 07:29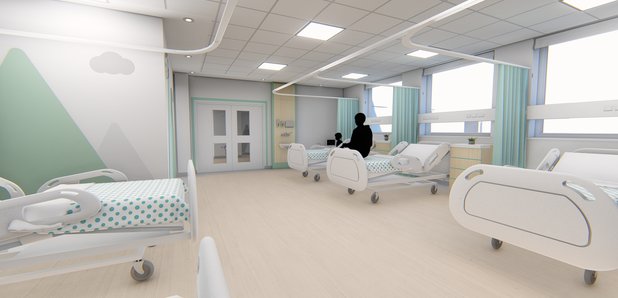 It's part of a £697,000 investment in improving services.
Major renovations have started on the Children's Unit at the Royal Lancaster Infirmary.
It's part of a £697,000 investment to improve the environment for patients, visitors and staff.
The renovations will include new flooring, lighting, decoration, furniture and equipment in the 5 bedded dedicated assessment area, 2 triage rooms, a playroom, an en-suite bedroom, toilet with baby change facilities and waiting areas, as well as refreshed staff areas including the ward offices and reception.
Laura Norton, Children's Unit Manager, said: "We are really excited about the revamp to the Children's Unit as it will help our patients, particularly the younger children we see, to feel comfortable and safe during their time with us.
"We know that it can be intimidating for both children and their families when they need to come into hospital, but we hope that by making sure that the environment they come into is as bright, airy and welcoming as possible, that we can help them to feel at ease.
"The changes will also be a boost for the staff on the Unit as they will be coming to work in a brand new and modern environment which they can be proud to show off when welcoming our patients and visitors."
Cat Smith, MP for Lancaster and Fleetwood, said: ""Whilst it's every parent's nightmare to have to spend time with their little one in hospital, I know these renovations to the children's unit will make my smallest constituents hospital stays a little more bearable."
The work to the Children's Unit started on 22nd October and is expected to be completed in March 2019.
The renovations are part of plans to invest £19million in capital projects across the University Hospitals of Morecambe Bay NHS Foundation Trust (UHMBT), with other projects including the expansion of the Day Surgery Unit at Westmorland General Hospital and a new resus facility at Furness General Hospital.