Rural Pharmacies Could Close, Says Farron
2 August 2018, 06:21 | Updated: 2 August 2018, 06:29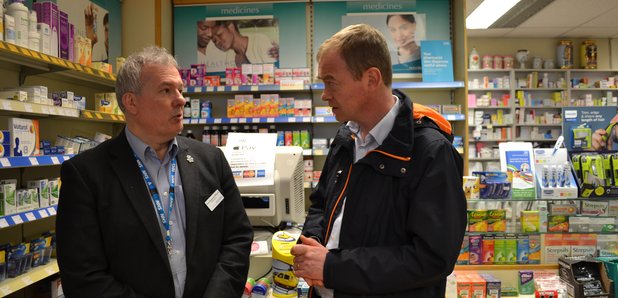 A fresh cut in medicine payments could mean the end for remote pharmacies, says South Lakes MP Tim Farron.
In Hawkshead, there's a pharmacy where there was a £5,000 shortfall between what the NHS were giving them and their monthly drugs cost.
Across the county, 140 community dispensers have ahd to shut over the last two years.
Mr. Farron said: "This announcement may well sadly be the final straw for many community pharmacies up and down the country.

"Large national chains can obviously subsidise their pharmacy operation with other sales in store - but that option is not open to smaller pharmacies in some of our town and villages. Yet, in those places, pharmacies provide an even more vital service, especially for the most vulnerable in our society.

"Community pharmacies are also massively important in easing the pressures on A&E departments, so by cutting the funding for local pharmacies the Government have shot themselves in the foot.
"We need to keep sending that strong message to the Government that they must intervene now to prevent the closures of our local community pharmacies."
Earlier this year, a petition was started calling for the Government to fully fund the costs that community pharmacies have to pay for medicines and for an Essential Community Pharmacy Scheme to be set up to provide core funding so that community pharmacies won't be forced to close.