Shap Quarry Rail Link Restored
25 October 2018, 10:13 | Updated: 25 October 2018, 10:15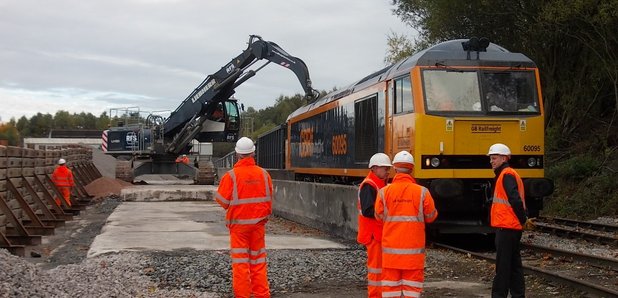 A Cumbrian quarry operator's taking hundreds of lorry journeys of the Northwest's roads by reinvesting in rail freight.
Hanson have spent £250,000 restoring the train link between Shap and their plant in Greater Manchester.
Simon Day, Hanson UK's regional general manager for the north, said: "The investment in the site is an important part of our rail strategy. We are working to try to increase the tonnage of aggregates we transport this way across the UK. These three trains a week will take around 1,500 truck journeys off the road each year and mean that we only need to put the material onto road transport for the last 5 - 10 miles rather than the 60 – 80 miles we do now. This will reduce the distances travelled on the road by our truck fleet by around 500,000 miles per year."
GB Railfreight's managing director, John Smith, said: "We are delighted to be partnering with Hanson on this new service, which will be using one of GB Railfreight's recently purchased class 60 locomotives.
"This partnership is further demonstration of the role freight can play in taking trucks off the road and reducing emissions."