Northern Services Reduced From Monday
4 June 2018, 07:14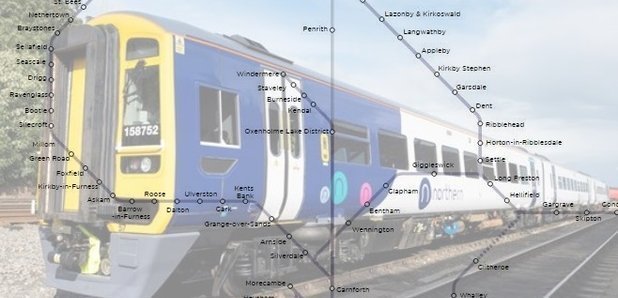 All train services on the Lakes Line are being replaced by buses for at least two weeks from today (June 4th) - with the removal of many services between Lancaster and Morecambe too.
Northern has announced a temporary change to its timetables, to help cut the number of last minute cancellations.
No mention has been made of the Furness line though.
Across the entire Northern network, 6% of daily train services will be temporarily removed until the end of July.
David Brown, Managing Director, Northern said: "We have been experiencing some significant disruption to train services, especially around north Manchester, Bolton, Liverpool, Blackpool and up to the Lake District.
"I'd like to apologise for this unacceptable situation and for the disruption and inconvenience many passengers have faced.
"We're truly sorry for this and are working hard to fix this.
"Again I would like to apologise on behalf of Northern for the unacceptable service many customers have been subject to.
"We are absolutely committed to resolving the service issues, and the interim plan will help ensure we start to get back on track and start to give customers more certainty around the services we operate."
South Lakes MP Tim Farron said: "This is disgraceful – Northern have simply given up. If they can't run the service, then it should be turned over to someone who can.
"I've secured an urgent meeting with the rail minister Jo Johnson for Monday. It's simply not on for there to be no trains for two weeks – if not longer.
"The hundreds of people who rely on the line to get to school and work and the thousands of tourists who use it to get to a World Heritage Site deserve better.
"Not content with cancelling half their services – Northern have cancelled every service on the Lakes Line today, and the Furness and coast lines aren't fairing much better."
Which Northern network areas are affected?
Lakes Line:
For an initial period of two weeks, all services on the Lakes Line to and from Preston, Lancaster and Oxenholme will be removed and replaced by a replacement bus service.
Lancashire:
There will be reductions between Ormskirk and Preston and a small number between Blackburn and Southport via Manchester Victoria, whilst many services on the Lancaster to Morecambe line will be removed.
Blackpool:
In and around Blackpool, Northern will reduce services between Blackpool South and Preston, Preston and Colne and will remove a small number of off-peak services between Blackpool North and Manchester Airport. Other services between Blackpool North and Manchester Piccadilly will start/terminate at Manchester Oxford Road.
Manchester:
Northern has reduced services on the Kirkby to Manchester Victoria line via Wigan, and the number of trains operating each day between Manchester Victoria and Stalybridge.
Liverpool City Region:
Additionally, there is a closure of Liverpool Lime Street for two months whilst significant work takes place on resignalling and remodelling of the infrastructure. Northern has reduced services during this interim period as a result of this closure. This will see three trains per hour run between Liverpool and Wigan/Manchester Victoria.
Mr Brown continued: "Northern's new timetable was designed to provide extra services, making use of our growing train fleet and infrastructure upgrades including the Ordsall Chord, at Liverpool Lime St and between Manchester and Blackpool.
"However, the timetable had to be planned and delivered in four months compared to the normal 9-12 months.
"This was because in January 2018 it was announced that there would be a further delay in delivery of the electrification of the Manchester-Preston via Bolton line, bringing the delay to two years.
"As a result of this announcement we had to totally rewrite our timetable plan and then plan and deliver significant levels of complex driver training on new routes and to operate different trains.
"This has caused us to have a reduction in availability of drivers to run our scheduled train services whilst they complete their training, and this has resulted in the significant number of last minute cancellations.
"One area I wanted to clarify is the position on train drivers, and to explain that we actually have more drivers than we need to run a full timetable in normal circumstances.
"We currently have 1,529 train drivers, 180 more than when we started the franchise.
"We are having to complete a significant amount of driver training as a result of the delayed Blackpool electrification programme, and a large number of additional last-minute route changes as a result of the May timetable.
"The interim timetable will enable us to accelerate the completion of this training."