Toddlers Get New Play Area In Kendal
2 October 2018, 10:38 | Updated: 2 October 2018, 10:43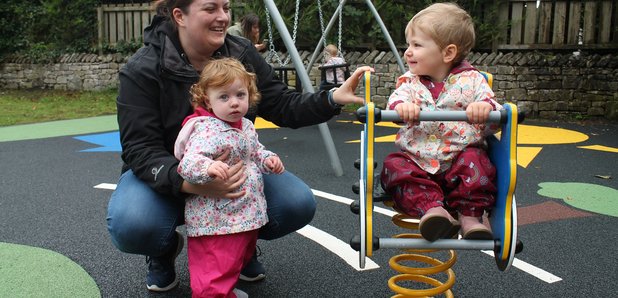 Kendal's got a new toddlers-only play area.
SLDC's spent £45,000 revamping Howe Bank Play Area for the under-5s.
The official re-opening was performed by Councillor Jonathan Brook, one of three SLDC ward councillors who had supported the project.
"Going out to public consultation on the future of four parks in the Kendal Parks area involved listening very carefully to what local people had to say. The overwhelming feeling was that toddlers needed a place of their own, specifically designed to suit their needs.
"I'm delighted to say that Howe Bank Play Area is now a colourful and happy place filled with the sound of small children having fun in a very safe environment," said Cllr Brook.
SLDC's Councillor Chris Hogg and Councillor Doug Rathbone, who also represent the ward of Kendal South and Natland, supported the project and attended the re-opening ceremony.
"With this delightful play area now finished, and work progressing well to improve the play facilities for older children in nearby Kendal Parks Road, it shows the council is listening to what residents tell us and investing in facilities which the local community needs," added Cllr Brook.