Tour Of Britain Worth £11m To Cumbria
16 November 2018, 09:05 | Updated: 16 November 2018, 09:08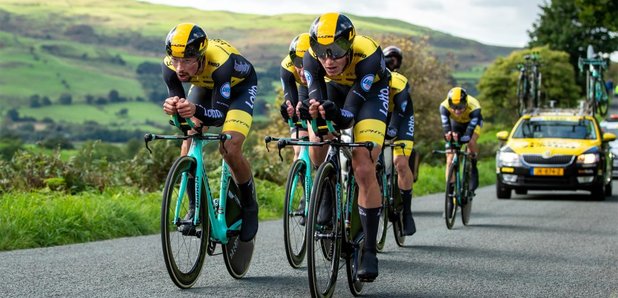 One-and-a-half-million people saw Cumbria on their TVs as the Tour of Britain weaved its way through back in September.
Cumbria County Council's been looking at the impact of hosting two stages, with nearly a quarter-of-a-million spectators turning out.
They say 60% of people were inspired to get on their own bikes; while the local economy benefited to the tune of £11million.
Cllr Keith Little, Cumbria County Council cabinet member for Highways and Transport, said: "The Tour of Britain has once again delivered many benefits to Cumbria – boosting the local economy to the tune of more than £11m, giving people two truly memorable days and encouraging more cycling in the county. Hosting two full stages of the race was a big coup for Cumbria and was a great opportunity to showcase our wonderful county to a worldwide television audience. It was also fantastic to see so many schools getting involved in the Tour of Britain this year and we hope the race has inspired more people to take up cycling
"The Tour of Britain is one of the biggest sporting events in the country and bringing the race to Cumbria for two days was a real team effort, with delivery partners and sponsors all supporting what was another excellent sporting spectacle."
BAE Systems Submarines Human Resources Director Paul Ethell said: "It was a real boost when tour organisers picked Barrow as the starting point for the Cumbrian stage and we are proud to have been the official sponsor.
"Hosting the Tour of Britain gave us the opportunity to give something back to the town and local community. Our Company and the people of Barrow have a long history of working alongside each other to achieve great things.
"Cumbria is a great place to live and work and the event helped showcase to visitors and TV viewers just what a fantastic area of the country we live in."
Mick Bennett, Tour of Britain Race Director, said: "The two Cumbrian stages of the 2018 OVO Energy Tour of Britain were among the best we've seen since the race was relaunched in 2004. The challenging terrain tackled by the world's best riders, the stunning landscapes and sheer number of people who lined the route over the two days meant that the race had a carnival-like atmosphere, something that the professionals commented on and also came across to the millions of TV viewers around the world.
"I cannot thank Cumbria County Council and our local stakeholders and partners enough for the way they supported this year's event. The success of the two stages owes a lot to their dedication and enthusiasm over a number of months, as well as the 240,000 fans who were loud and passionate from the first mile to the last!"