TV Campaign For Shared Lives Scheme
9 December 2018, 08:19 | Updated: 9 December 2018, 08:22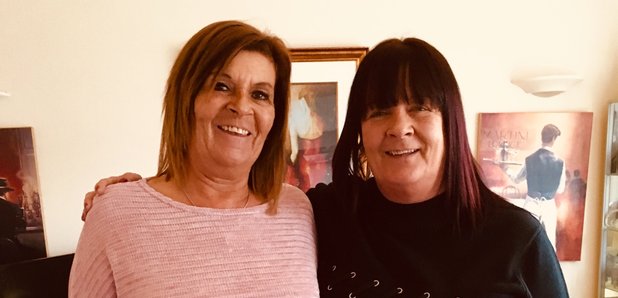 Lancashire sisters Cindy and Terri are encouraging others to open up their homes.
Two sisters are encouraging others to 'share their lives' as part of a Lancashire County Council scheme.
Cindy Hughes and Terri McCoo have been Shared Lives carers for more than 12 years between them.
Shared Lives matches adults with learning disabilities, older people and people with mental health needs with carers and their families.
The people who need support get to become part of a real family, instead of staying in a residential facility or being looked after by a team of support workers.
The scheme works in a similar way to foster care, but for vulnerable adults.
Terry and Cindy are speaking out and encouraging more people to contact the county council about becoming Shared Lives carers as part of a national campaign spearheaded by TV star Arabella Weir, best known for appearing on the Fast Show.
The Does My Heart Look Big in This? campaign, run by Shared Lives Plus, is encouraging people to contact their local council if they feel they can share their home with someone who needs support.
The Sisters from Pilling, who are also neighbours, spoke of the happiness that Shared Lives has brought to them and the people they have supported over the years.
Terri, aged 58, who became a Shared Lives Carer in 2010, said: "I love being a Shared Lives carer. I became involved with the scheme after working in the pub industry.
"I was already caring for someone on an informal basis and social workers suggested I should look at becoming a Shared Lives carer, meaning he'd move into our home and take part in family life with us.
"I followed their advice and he's still living here with me now. During this time I've also supported many other people through Shared Lives by providing short-term or respite care support.
"My previous experience as a foster carer prepared me well for Shared Lives as many of the skills you need are similar.
"The people you support really do become part of the family. I get so much out of it and I'm learning all the time.
"It's a great way to meet lovely, lovely people."
Cindy, aged 57, has been a Shared Lives carer for over two years. She said: "Living next door to Terri, I met a lot of people she cared for through Shared Lives.
"It was really tough after my husband passed away and people would say to me 'why don't you go into Shared Lives too'.
"I decided to train up as a carer and it's been great. I always try to help others when I can and by supporting people who may be vulnerable or live with a disability, I feel like I'm giving something back.
"I provide short-term care for people. I support one lady, regularly who is fantastic and we really get along very well. We've shared some great experiences.
"I support other people too, some of them have previously lived alone all the time.
"When they come to stay with me, they join in with all our family activities. We're a big and very close family and everybody, including the people needing care and my grandchildren, loves to chat and spend time together.
"One man I supported loves history and we all learned so much while he was on placement here.
"The help we can access as carers is great. The Shared Lives officers are there to help with anything and all the carers act as a network to help each other. There is superb training covering all aspects of the role.
"Being a Shared Lives carer really does open your eyes and you get so much out of it. It's challenging, but rewarding and if you think you'd be interested, I'd recommend you talk to the county council's Shared Lives team about what the scheme involves."
County Councillor Graham Gooch, cabinet member for adult services, said: "It's great to hear Terri and Cindy's stories. It sounds like the people they support are very well looked after and that they all get a lot out of the Shared Lives scheme.
"They work very hard and make a real difference to people's lives.
"There are many shared lives carers like them across the county, but we're always looking for more.
"For many people, Shared Lives is the best care option compared to other forms of support such as residential care. By becoming a Shared Lives carer, you could make a huge impact on someone's lives so contact our team to find out more."