UHMBT Counts Down To NHS 70th Parties
29 May 2018, 15:30 | Updated: 29 May 2018, 15:33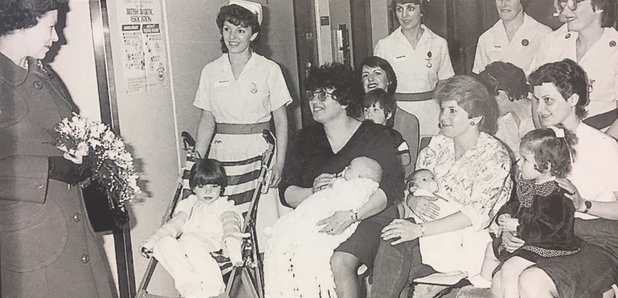 Morecambe Bay's hospitals are getting ready for this summer's 70th anniversary of the NHS.
Special events are being held by the UHMBT in Kendal, Barrow and Lancaster in July.
It's also 20 years since the Trust itself was formed.

Sue Smith, Executive Chief Nurse and Deputy Chief Executive, UHMBT, said: "It is fantastic to be celebrating 20 years of the formation of our Trust and 70 years of the NHS in the same year.
"We have a lot to be proud of - both as an organisation and the NHS as a whole.

"NHS staff, volunteers and Governors across our Trust and the entire country are some of the most dedicated and caring people known to man.
"As a nation, we are extremely lucky to have them there 24 hours a day, seven days a week to care for us and our loved ones at what can be the happiest of times, the saddest of times, and the most vulnerable moments of our lives.

"We can't let these two occasion pass without celebrating and there are lots of events happening around the Trust to say thank you to our staff, Governors and volunteers.
"This is our opportunity to give back and say a huge thank you so we hope as many people as possible get involved with the festivities."
Celebration plans include an exhibition of artefacts and memorabilia from the Lancaster Medical Museum Group which will be on display from 8.30am -1pm in Seminar Room 6, at the Education Centre, RLI, on Wednesday 27th June.
'A Brilliant Bay Day' will also take place at the Castle Green Hotel, Kendal, on Wednesday 5th July where staff will showcase the improvement schemes that they have led to improve the experience of patients and their colleagues.
In addition, the UHMBT nursing team will be visiting ward staff with special NHS70 cupcakes to say thank you on Thursday 12th July, at the RLI, Monday 30 July, at FGH and Wednesday 1 August, at WGH.

A vintage edition of the Trust's staff newsletter - Weekly News - will also be produced as a keepsake for staff on Tuesday 3rd July, full of stories, memories, photos and events.

The Trust is also celebrating its staff and volunteers - past and present - by promoting memories and stories.
Anyone who wants to share their story can contact the Corporate Communications team on communications.team@mbht.nhs.uk or by calling 01539 716675.
Pictured: HRH The queen on a visit to the children's ward at Furness General Hospital, 1985