Walney Erosion Exposes Decades-Old Junk
5 April 2018, 11:46 | Updated: 5 April 2018, 11:48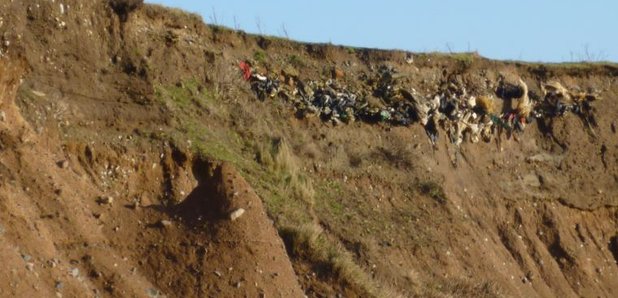 Work to shore up part of South Walney's crumbling coastline's been finished, after unprecedented weather in recent years - exposing decades-old rubbish.
The weather - along with what's been described as the "relentless pounding of waves", significantly eroded the clay cliffs on the western side of the island, near of the South End Caravan Park.
The erosion has exposed decades-old household rubbish that was previously contained within a landfill site, located on grassland on top of the cliffs.
The work so far has involved extensive removal of old waste and re-capping of the area.
Monitoring the work were local members, Cllr Kevin Hamilton and Cllr Frank Cassidy, joining officers from Cumbria County Council's Waste Team.
Cllr Frank Cassidy, local member for Walney South, said: "Many parts of our coastline have taken a battering from storms in the past few years and this section of Walney has been particularly vulnerable because of the soft clay that faces the sea.
"Cumbria County Council has invested tens of thousands of pounds in addressing the damage caused by Mother Nature and we are grateful to our officers who have responded brilliantly in organising this repair work and to the contractors who are carrying it out.
"Stage one of the work has now been completed. The contractors will later move on to the section of coastline nearer the caravan park and the whole job is expected to be completed by the summer."
Cllr Kevin Hamilton, Chairman of the council's Local Committee for Barrow, said: "The coastline is an important part of our community and I am delighted to see the repair and improvement works starting to make a real difference.
"I'd like to say thank you to the local community for their patience and understanding while we carry out these works, and to the council teams involved in the repairs for their hard work and commitment."
Cllr Celia Tibble, cabinet member for the Environment, said: "Nature can be a real nuisance, and we're all too used to that in Cumbria.
I am pleased that the South Walney coastline is in the process of being returned to its scenic former self for the local community to enjoy.
It's a lovely area for walking and the council is committed to repairing and improving the area following the recent erosion."