Woman Injured In 200m Mountain Fall
20 March 2018, 11:20 | Updated: 20 March 2018, 14:08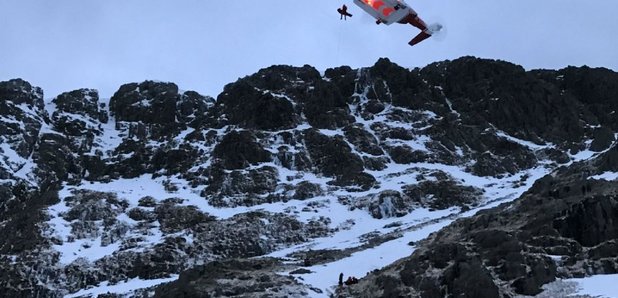 A woman has been seriously injured after falling 200 metres down a Lake District mountain - taking a second climber down with her.
It happened on Great End, leaving her with serious head injuries.
The 27 year old was flown to Furness General Hospital.
The second climber escaped unhurt.
The Keswick Mountain Rescue Team called in support from the Patterdale team, calling it a "challenging" weekend, which also included a
fatality
on Helvellyn.
It's the latest serious accident in the Lake District mountains in recent months, prompting safety calls from the Lake District Search & Mountain Rescue Association.
Walkers are being urged to always check the weather conditions before venturing out and to ensure they've not only got the correct equipment - but to learn how to use it.
A reliance on GPS technology isn't solely advised, due to devices' battery life.
Meanwhile, in a separate rescue operation, a climber was saved from above the Kirkstone Pass early this morning (Tuesday), by a rescuer who had to be winched down to reach him.
It happened at around 5.30am, during snowy and icy conditions at Kilnshaw Chimney where he'd got stuck.
The Preston man had to be lowered down with ropes during the three-hour operation.