Welcome To Heart North Lancashire And Cumbria!
5 March 2018, 07:55 | Updated: 5 March 2018, 10:40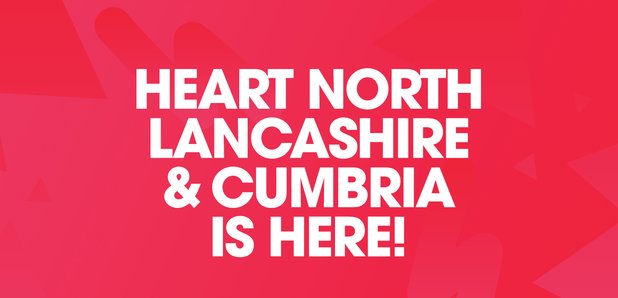 Heart has officially launched across North Lancashire and Cumbria in March 2018.
Listeners across in Lancashire and Cumbria can now turn up the feel good with Heart!
Wake up with Heart Breakfast where Danny Matthews will be turning up the feel good from 6am to 10 am, before Chris Kirk gets you home with the latest travel news during Drivetime from 4pm til 7pm.
Make sure you keep listening over the weekend too, as Chris is back to take control of Heart's Feel Good Weekend with more great songs for your Saturday morning while Alex Cribb keeps the feel good going on Sundays from 12-4pm.
Heart is the UK's most popular commercial radio brand with 9.5 million listeners, and the home of feel good music. This move adds a 23rd local station to the Heart network.
In November 2017, Global acquired The Bay from CN Group. Global has a successful and long held strategy of national brands delivered locally, giving local listeners the very best of both national branded content and local content. This March, The Bay will become Heart and will be broadcast from Lancaster.
Ashley Tabor OBE, founder & executive president of Global, said: "This is an exciting moment for Global as we continue to grow our coverage across the UK and continue our successful strategy of national brands delivered locally. We've wanted to introduce Heart to more listeners across the North West for some time and so it's fantastic we're able to do this in 2018. We'll announce more details soon!"
Make sure
you reset your preset and re-store is on your radio ready!