Autumn comes early to iconic North Wales tearoom
12 September 2018, 12:24 | Updated: 12 September 2018, 12:38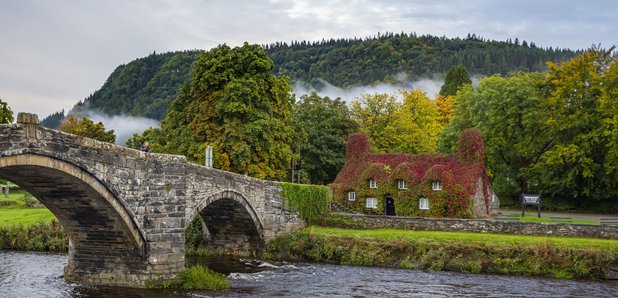 Autumn has arrived early in North Wales as the leaves are already turning red at the iconic tearoom on the banks of the River Conwy.
Visitors flock to see the Virginia creeper changing colour at the Tu Hwnt i'r Bont Tearooms in Llanrwst every year.
But the change has happened earlier than usual this year after one of the hottest summers on record in Wales.
Owner of the teamroom, Ayla Maddox, says it's happened a couple of weeks sooner than normal.
"It started to turn about a week ago and it has been turning quite quickly.
"We have been getting calls from people asking when is the best time to come and we would normally say the end of September, but I think this weekend might be the best time.
"It can be quite a small window to catch the autumnal colours as if we get a period of bad weather the leaves can blow off.
"We see a change in the colour daily at the moment, I take a picture on my phone every day to see the difference."
The creeper is expected to turn completely red over the next few days.