March over plans to cut Wrexham fire engine
6 November 2016, 07:35 | Updated: 6 November 2016, 08:22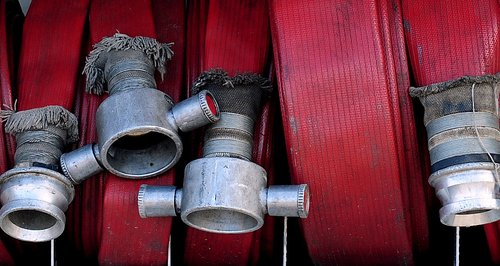 Hundreds of people have joined a march in Wrexham over plans which could see cuts to fire services in North Wales.
The Fire Authority is considering options such as closing rural stations or removing a pump from Wrexham fire station as part of it's budget plans.
North Wales Fire and Rescue Service says is no longer possible to freeze the budget because of general pay and price inflation and increasing pension costs,
This has raised objections from people who claim the cuts are inappropriate following a series of recent arson attacks in Wrexham.
A campaign group, opposed to the cuts, led a rally in Wrexham on Saturday with people carrying banners in support of the firefighters who could lose their jobs.
Organiser Marc Jones said: "People joined the march because they can see for themselves how important the fire service is to our community - many have first-hand experience of both fire engines coming out to attend fires or other incidents.
"It makes no sense to get rid of this pump now when we have a projected population increase of up to 20%, a super-prison opening in May 2017 and 43% of all north Wales arsons.
Dawn Docx, Deputy Chief Fire Officer for North Wales Fire and Rescue Service, said: "This decision to explore reducing services in the future has not been taken lightly, but rather on the basis of being the least damaging option.
"This is not something which has already been decided and even if pursued will not happen for some time.
"We welcome responses from the public."