Historical Days Out For All The Family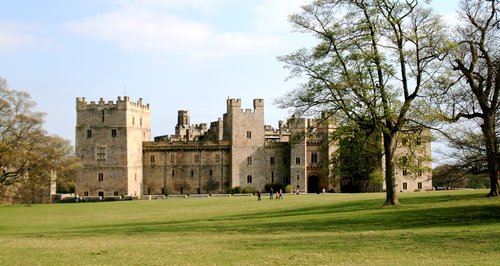 From railways to quirky museums and Georgian houses your little historians will love these ideas for great days out in the North West of England with one foot in the past. What are you waiting for?
Photo by
kenbob (instagram.com)
Greater Manchester Police Museum

57a Newton St., Manchester (map)
Step back in time to Victorian Manchester at the Police Museum. Find out how the 'new' Bobbies on the beat upheld the law over all the narrow alleys, slums and unruly alehouse of this hidden city.
Photo by
diogosuyama (instagram.com)
Museum of Liverpool
http://www.liverpoolmuseums.org.uk/mol/
Media House, Liverpool (map)
Discover how the great city played its part in shaping the nation. With interactive technology and a programme of events, the Museum of Liverpool is anything but boring. It's a must-visit.
Photo by
itsterryd (instagram.com)
West Lancashire Light Railway
http://www.wllr.net/
2-48 Station Rd, Hesketh-with-Becconsall (map)
Fun for all the family as you experience steam locomotives in their full glory and take a short train trip around a flooded clay at the West Lancashire Light Railway.
Photo by
cathilton (instagram.com)
Lytham Hall
http://www.lythamhall.org.uk/
Lytham Hall, Ballam Road, Lytham, FY8 4TQ (map)
@lythamhall
Explore the splendour of the finest Georgian house in Lancashire and the history of its owners, the colourful Clifton family. With over 78 acres of parkland and a range of outdoor activities held throughout the week, it's a fun and varied day out.
Photo by
quirkytraveller (instagram.com)
Queen Street Mill Textile Museum
Harle Syke, Burnley, Lancashire, BB10 2HX (map)
Visit the last surviving and operational steam-powered weaving mill in the world, watch the weavers turn cotton into cloth and experience what it was like to work in a mill.
Photo by
kupcakekathy (instagram.com)
Speke Hall, Garden and Estate
http://www.nationaltrust.org.uk/speke-hall/
The Walk, Liverpool (map)
@nationaltrust
Visit this beautiful manor house on the banks of the River Mersey to find out the history behind the mix Tudor architecture and the Victorian arts and craft movement. Once you've taken a tour of the house, get lost in the maze and surrounding gardens and then treat yourself to homemade cakes and scones in the new Stable Tea Room.
Photo by
souldestroyer_ (instagram.com)
Runway Visitor Park
http://bit.ly/1ED0hda
Sunbank Lane, Manchester (map)
Take a front row seat to watch planes take-off and explore real aircraft including the famous Concorde and decommissioned Nimrod patrol and attack aircraft. The Runway Visitor Park of Manchester Airport offers everything for those fascinated by flight.
Photo by
rjo1987 (instagram.com)
Beeston Castle and Woodland Park
http://www.english-heritage.org.uk
Chapel Ln., Beeston (map)
Climb to the top of this magnificent castle for incredible views over eight counties. With over 40 acres of trails to explore in the Woodland Park and a museum featuring local history reaching back to the Neolithic age, you're guaranteed to find something for all the family.
Photo by
hairulhasrafvevo (instagram.com)
Manchester United Museum & Trophy Room
http://www.manutd.com/en/Visit-Old-Trafford.aspx
Old Trafford, Manchester (map)
Go behind the scenes of one of the greatest football teams of all time and discover why over 200,000 people visit the Manchester United Museum every year.
Photo by
jhobartanimator (instagram.com)
Houghton Tower
http://www.hoghtontower.co.uk/
Houghton Tower, Houghton, Preston, PR5 0SH, (map)
Take a tour of this historic castle and grounds to learn about the Knighting of the Loin. With several dungeons, a witch's kitchen, a doll house collection, walled gardens and turrets, there's plenty to fire up the imagination.
Photo by
zorrowmisce (instagram.com)
National Waterways Museum
https://canalrivertrust.org.uk/national-waterways-museum
South Pier Road, Halton (map)
Bring history to life at the National Waterways Museum located on the banks of the Mersey and the Manchester Ship Canal. Take a boat trip, explore the historic buildings and learn stories about the people who brought the locks and canals to life.
Do you know an amazing historical place to visit in the North West that you really enjoyed as a family? Recommend it here.