Celebrate Halloween In The City & Win £500 Of Spooktacular Shopping Vouchers!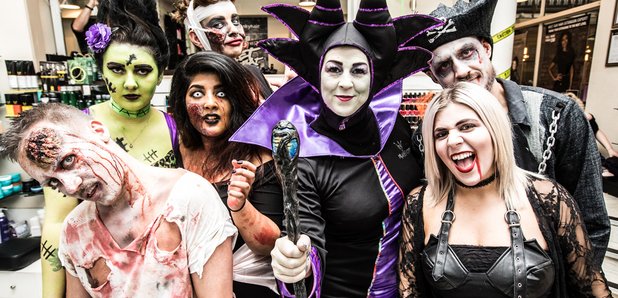 Watch out for a lot of creepy goings on across Manchester this Halloween as Halloween in the City takes over from 21st to 31st October, bringing with it a host of spooktacular treats and events.
This Halloween, be prepared to be wowed by the UK's biggest and most spooktacular celebrations, and best of all, it's FREE!
From 21st October, Halloween in the City will see Manchester covered in spooky decorations with inflatable monsters taking over the buildings, and come nightfall, some of the iconic landmarks will glow up a ghastly green.
As part of the event, Halloweekend wraps it's claws around Manchester on Saturday 28th and Sunday 29th October. This family friendly Halloween festival includes a city wide Trick or Treat seeing haunted houses popping up across the city, along with a Haunted Maze in St Ann's Square.

For loads of ghoulish goings on, head to the main stage in Exchange Square and join in the biggest mass dress-up in Halloween history to win prizes. They want to create the biggest mass dress up in Halloween history with families from across the region encouraged to come to their Halloweekend dressed in their spookiest costumes! Which witch will you be? Will your mum go dressed as a real Mummy? They want to see your best costumes! Your creepy canine can join in too, as there's even a Dog Costume Catwalk, if you're after darker fashion there's also a Gothic Catwalk Show.
To add to the spine-tingling set of activities, the main stage will screen everyone's favourite Halloween family classics; Ghostbusters, Hocus Pocus and Hotel Transylvania plus, there will be a mini Halloween travelling party with a New Orleans funeral band, Day of the Dead style carnival puppets, street performers and monstrous dancing.
Plus, Big Fish Little Fish, renowned for its family friendly raves and world class partying for kids, will be throwing a spooky science party with the best music and creepy crawlies from Chester Zoo. There's also loads going on at the Museum of Science and Industry and if you fancy getting made up, head to Market Square for some spooky make-up tips.
Win a spooktacular shopping spree!
We've teamed up with Marketing Manchester and the Manchester BID, the hosts of Halloween in the City, to offer you a terrifyingly good prize of a huge bundle of shopping vouchers.
Answer the question below before 6pm on Sunday 29th October and you could be heading off to the shops with £100 to each one of these stores: Debenhams, M&S, House of Fraser, Harvey Nichols and Selfridges That's £500 in total, so don't miss out!