20 Years Since The Manchester Bomb
15 June 2016, 05:00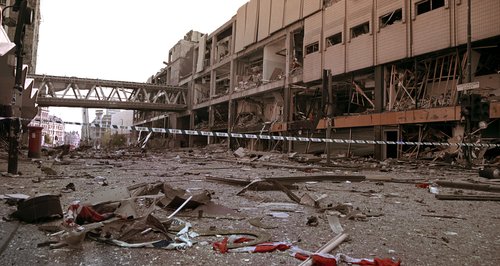 The IRA parked a white and red truck on Corporation Street, packed with 1,500kg of explosives, on Saturday 15th June 1996.
Coded warnings were phoned into the media just before 10am, saying a bomb would go off in one hour. Around 80,000 people were already in the city centre, and a huge evacuation followed.
Wai San, who was working in the Arndale Centre, has told Heart at first they didn't take it seriously: "I actually thought it was some sort of fire drill or practice run. In those days, no one was really on a high alert to terrorism. Everyone was really relaxed, laughing joking, buying ice creams and ice lollies because it was a really nice hot sunny day."
A police helicopter ordered people to move further back, Councillor Pat Karney was one of the crowd who had been evacuated from Market Street. "I'll never forget those words 'til the day I die- 'Emergency, leave the city of Manchester'. None of us knew what it was about."
A robot was sent in to diffuse the bomb, but it was too late. It went off at 11:17am, sending a cloud of smoke 1,000 feet into the air. It rained down glass and debris on the people below, up to half a mile from the blast itself.
"Everything seemed to slow down for a few seconds… it almost seemed silent... then shards of glass smashing on the ground. People started screaming, running, panicking. I saw people with blood to their arms and faces. People were running in all sorts of directions." Wai San remembers.
Thanks to the evacuation, no one was killed, but more than 200 people were injured.
Paramedic Les Birkhead from the North West Ambulance Service was one of the first responders on the scene. He's told Heart despite the warnings and police evacuation, they had no idea what they were responding to: "The information that came to us was that it had been a gas explosion, and that's the initial call that we started to attend. It was only a couple minutes into the journey that we got this further information that it was potentially a terrorist attack. As we turned onto Fountains Street, we realised the enormity of what had happened."
The bomb caused £700 million worth of damage, and prompted a regeneration of Manchester City Centre. As a result, it's often said that the bomb was the best thing to happen to Manchester, Cllr Karney disagrees: "If you were there on the day and you had this helicopter saying 'Emergency get out the City Centre', people were just screaming, you can't just say it was one of the best things to happen to Manchester."