Alfie Evans Family To Fight On
7 March 2018, 07:02 | Updated: 7 March 2018, 07:08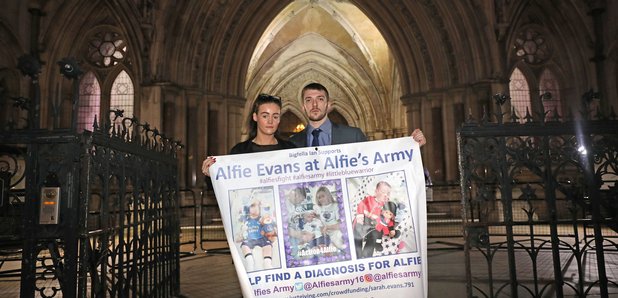 The parents of Liverpool toddler, Alfie Evans, say they will continue their fight to stop Alder Hey Children's Hospital being allowed to remove his life support.
Alfie's parents, Kate James and Tom Evans, say they will appeal to the Supreme Court.
Alfie's parents, who are both in their 20s and from Liverpool, had challenged a decision by a High Court judge who considered the case after specialists at Alder Hey Children's Hospital in Liverpool said life-support treatment could stop.
Mr Justice Hayden, who analysed Alfie's case at hearings in the Family Division of the High Court in London and Liverpool, said he accepted medical evidence which showed that further treatment was futile.
Alfie's parents want to move him to a hospital in either Rome or Munich and complained that Mr Justice Hayden's ruling had unfairly prevented them from doing that.
Barrister Stephen Knafler QC, who is leading the couple's legal team, said "the State" had wrongly interfered with "parental choice".
But appeal judges dismissed the challenge.
Mr Knafler told appeal judges that the Supreme Court might be asked to consider the case.
"We will be appealing," said Mr Evans, who listened to an appeal judge read the ruling via a telephone link, after the hearing.
"It's like a glimmer of hope from the legal point of view."
He added: "We want to keep giving him options, we want to keep giving him chances."
A spokesman for the Alder Hey NHS Foundation Trust said: "Today the Court of Appeal upheld the judgment from the High Court that continued active treatment is not in Alfie's best interest.
"We understand that this is a very difficult time for Alfie's family and we will continue to work with them to agree the most appropriate palliative care plan for Alfie."
Judges heard that Alfie was in a "semi-vegetative state" and had a degenerative neurological condition doctors had not definitively diagnosed.