Alfie Evans :Latest From Court
25 April 2018, 16:24 | Updated: 25 April 2018, 16:32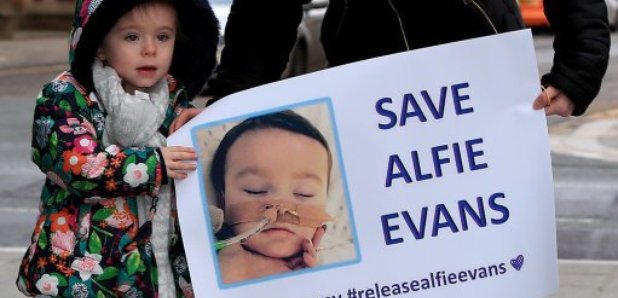 Three Court of Appeal judges are analysing the latest stage of a life-support treatment dispute over a 23-month-old boy at a hearing in London.
Alfie's parents Tom Evans and Kate James, who are both in their early 20s and from Liverpool, are appealing following a ruling made by a High Court judge late on Tuesday.
A lawyer representing Miss James said Alfie was "struggling".
Mr Justice Hayden decided, at a hearing in the Family Division of the High Court in Manchester, that Alfie should not be allowed to leave Alder Hey Children's Hospital in Liverpool and travel to a hospital in Rome.
Doctors stopped providing life-support treatment to Alfie late on Monday.
Mr Evans said his son had confounded specialists' expectations by continuing to breathe.
Alfie's parents have already lost two rounds of fights, in the High Court, Court of Appeal, Supreme Court and European Court of Human Rights.
In February, Mr Justice Hayden ruled that doctors at Alder Hey could stop treating Alfie against the wishes of his parents following hearings in the Family Division of the High Court in London and Liverpool.
Specialists at Alder Hey said life-support treatment should stop and Mr Justice Hayden said he accepted medical evidence which showed that further treatment was futile.
Mr Justice Hayden said flying Alfie to a foreign hospital would be wrong and pointless.
Court of Appeal judges upheld his decisions.
Supreme Court justices and ECHR judges refused to intervene.
The couple then said that Alfie was being wrongly "detained".
Mr Justice Hayden dismissed that claim.
Appeal judges have upheld Mr Justice Hayden's decision and Supreme Court justices and ECHR judges said they would not intervene.
Mr Justice Hayden then finalised plans for withdrawing treatment and allowing Alfie's life to end.
Judicial heads announced earlier this week that Sir Andrew would take over from Sir James Munby, who is retiring, as the most senior family court judge in England and Wales in a few months' time.