Alfie Evan's Parents keep fighting
21 March 2018, 13:53 | Updated: 21 March 2018, 13:56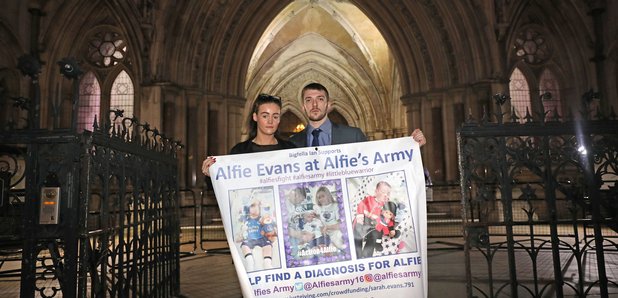 Liverpool Mum and Dad Tom Evans and Kate James will meet lawyers to consider taking their fight for their son, Alfie, to the European Court of Human Rights after all legal avenues in the UK were exhausted by Tuesday's ruling from the highest court in land.
A High Court judge has ruled that doctors at Alder Hey Children's Hospital in Liverpool can stop treating Alfie, against the wishes of his young parents.
Removing his ventilator would swiftly end his life.
Alfie's parents wanted to stage a fight at the Supreme Court in London.
But Supreme Court justices decided the case is not worth arguing and refused to give the couple permission to mount a further appeal.
The family's solicitor, Mary Holmes, said they will now consider taking their fight to the ECHR.
She said: "It is such a difficult case to deal with.
"In this particular case the outcome could be a child will lose his life."
Judges have heard that Alfie, who was born on May 9 2016, is in a "semi-vegetative state" and has a degenerative neurological condition doctors had not definitively diagnosed.
Specialists at Alder Hey said life support treatment should stop and further intervention was futile.
Alfie's parents want to explore further treatment at a hospital in Rome.
Ms Holmes said she would meet them and other lawyers to discuss the next steps after Tuesday's Supreme Court decision.
She said: "I'm sure you can imagine they were devastated, really terribly upset.
"We had hoped we could proceed through the Supreme Court. We did think we very much did have an arguable case.
"We were somewhat deflated and disappointed and had worked so hard to get it to that stage.
"The way things stand at the moment, the Supreme Court have refused our application to appeal and that might well be the end of where we are going.
"But there's another route if Tom and Kate want to take that, and we are at the moment decamping to discuss the next steps.
"That will be to apply to the European Court of Human Rights. If we decide to take that step, that would be the last exhaustive route, that would be the last rung on the ladder, so to speak.
"It would have to be done swiftly if we are going to do it."
During a protracted legal battle, Mr Justice Hayden analysed the case at hearings in the Family Division of the High Court in London and Liverpool and agreed with the hospital's assessment on ending life-support.
Rules meant that Alfie's parents could not simply ask Supreme Court justices to consider the case.
They first had to clear an initial legal hurdle by persuading the judges that they had a case worth arguing.
A Supreme Court spokeswoman said on Tuesday that the justices had rejected the couple's bid after analysing written arguments from everyone involved.
Alder Hey Hospital say they will do all they can to support the family with palliative treatment for the little boy.