Bees Ready To Swarm Manchester
19 July 2018, 12:09 | Updated: 19 July 2018, 12:10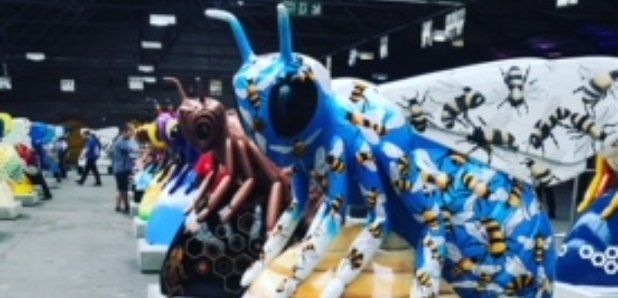 We've been given a sneak peek of the giant bee sculptures that will go on display in Manchester from next week.
More than 100 will form a public art trai with ones in suburbs including Didsbury and Wythernshawe.
Each is decorated with its own unique design.
Sculptures include a Rock 'N' Roll Bee designed in partnership with ex-Oasis star Liam Gallagher, a Hac-Bee-Enda bee celebrating the city's legendary nightclub, plus footballing tributes to Manchester's famous clubs Bee United and Mike Summer-Bee.
The Bee Live in MCR sculpture features signatures from the Rolling Stones, Ed Sheeran and Taylor Swift, while the I Wanna Bee Adored sculpture is signed by Stone Roses bassist Gary "Mani" Mountfield.
Sally-Ann Wilkinson, director of organisers Wild in Art, said: "Bee In The City is a celebration of Manchester's diversity, creativity and culture.
"Each individual Bee represents our fantastic city's many achievements, from its legendary music scene to scientific discoveries and industrial heritage.
"Manchester is such a unique city in many ways, and one of those is its ability to bring people together.
"Different sectors have collaborated to create this fabulous event, including the public and private sectors, schools and community groups.
"As well as a celebration of creativity, the trail is also a celebration of unity."
The sculptures will later be auctioned to raise funds for The Lord Mayor of Manchester's charity , We Love MCR Charity, which aims to improve the lives and life chances of Manchester people.
They'll be on display from July 23rd to September 23rd.