Blackpool drug dealers jailed
5 September 2018, 12:23 | Updated: 5 September 2018, 12:26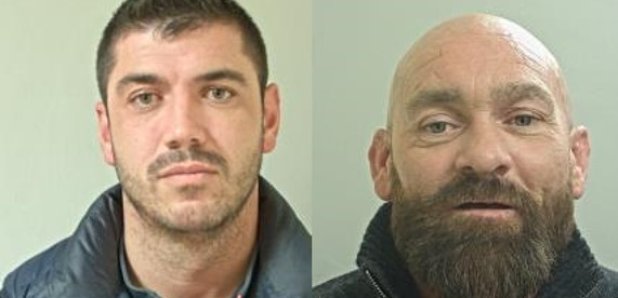 Two men have been jailed for more than 15 years after admitting drugs offences in Blackpool.
Stuart Ashley (pictured, left), 34, of no fixed address and Stuart McBride (pictured, right), 46, of Oxford Road, Blackpool, were sentenced at Preston Crown Court yesterday (Tuesday, September 4).
The pair were arrested earlier this year following a police drugs operation.
On February 7 Ashley travelled from Preston to McBride's home in a black BMW.
Ashley left the address and returned to his vehicle. Officers detained the 34-year-old at the scene and searched his car. A quantity of cocaine, around 500g, was recovered.
Officers then searched McBride's address, with the 46-year-old seen running away from the property towards a rear alley carrying a package. He was stopped by officers and on inspection the package was found to be close to 500g of cocaine. Both packages had a total street value of around £100,000.
A search of the address found scales, a taser-style stun gun, two air pistols, cash and mobile phones.
Ashley's former address in Longton was also searched, with a money counting machine, latex gloves, numerous mobile phones and electronic devices found.
Both were charged and pleaded guilty to possession with intent to supply cocaine and possession of criminal property.
McBride also admitted a separate charge of possession of a prohibited weapon in relation to the stun gun recovered.
Ashley was given nine years in prison, with McBride jailed for seven years and three months.
Det Insp Roger Ashcroft, of Lancashire Police, said: "Ashley and McBride were working together to flood the streets of Blackpool with cocaine.
"The drugs recovered were high in purity, with a street value of around £100,000. It is likely the cocaine would have been cut further to be spread around the Fylde coast.
"Officers were able to quickly stop the pair before any further damage was done.
"It's clear to me from the items recovered at both addresses that this was an operation which had been going on for some time.
"We would encourage anyone who suspects drugs being dealt in their community to contact police immediately. We will act and bring these criminals, such as Ashley and McBride, to justice."