Blaze Car Park Could Be Demolished
3 January 2018, 07:03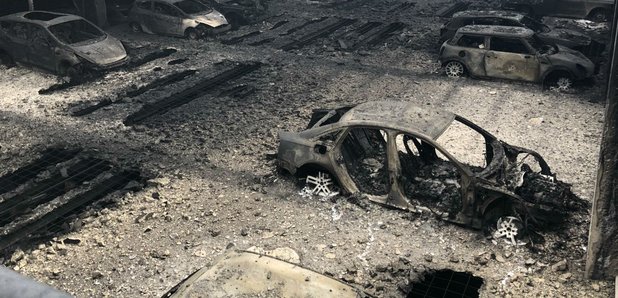 Liverpool's Mayor, Joe Anderson, has told Heart he expects the car park, which was gutted by fire on New Year's Eve, to be demolished.
The car park, which sits opposite the Echo Arena, became engulfed in flames after a fire in a Land Rover spread throughout all floors of the building.
More than 1,400 vehicles were destroyed and apartments, hotels and the Arena all had to be evacuated with the Liverpool International Horse Show being abandoned.
The fire was accidental but questions have been raised over whether a sprinkler system would have extinguished, or at least slowed-down the impact of the fire.
Mayor Anderson told Heart an under-resourced fire service was a bigger issue, he said: "We only had two appliances that turned up initially... and two years ago there would have been eight. If we had had those number of officers and appliances turn up, would we have been able to manage the situation rather than lose control of it, which we did.
"We had fire appliances come from Manchester and Lancashire. If there had been major fire incidents in those areas at the same time... what would have happened?"
Emergency Services are advising anyone affected by the fire at Liverpool Echo Arena car park to direct any vehicle enquiries to their insurance companies (quoting reference number 650 of December 31) and not to call the emergency services.
Calling 101 or 999 with vehicle-related queries will be referred to the owner's insurance company and will not be dealt with by Merseyside Fire & Rescue Service and Merseyside Police.