Car Park Blaze Bosses Still In The Dark
31 January 2018, 07:19 | Updated: 31 January 2018, 07:27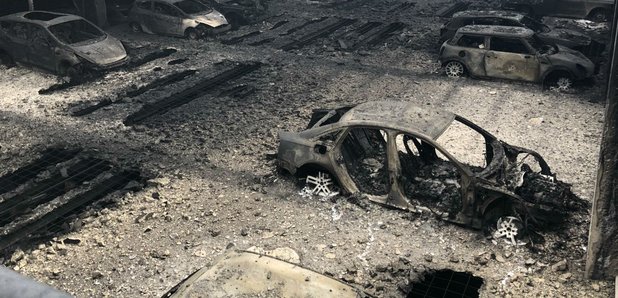 Bosses at the Liverpool Echo Arena have told Heart it could be another month before they know if the car park opposite will have to be knocked down.
More than 1,300 vehicles were destroyed in an intense, fast-spreading blaze on New Year's Eve - two dogs were killed as well.
The burnt-out shells of the cars remain inside with a question mark hanging over whether or not the car park itself will have to be knocked down.
Chief Executive, Bob Pratty, said: "It was a very unusual incident in terms of the number of cars lost. Cases like this are very rare and investigations are going on as we speak to try and work out how it spread so quickly.
"Our challenge is now how we replace the car park. We're utilising car parks all over the city and are lucky that within walking distance we have around 7,000 parking spaces.
"We have to go through all the insurance ramifications to see if it's going to be knocked down or a refurb, but obviously we are keen to push that as quickly as possible as we need to know where we are going, but it could be end of February."