Cultural Armada To Launch 2022 Games
25 August 2017, 10:35 | Updated: 25 August 2017, 11:06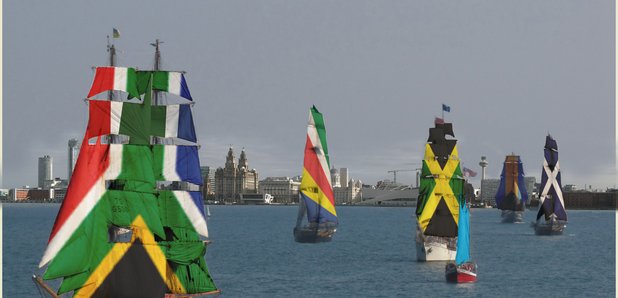 The games' opening ceremony would take place art Anfield with Liverpool's historic waterfront playing a major role.
A fleet of 71 vessels would to sail into the city on the eve of the Games with the UK's biggest light show to showcase city venues
Organisers say the boats, being described as an armada, would each represent a Commonwealth country, flying the flag of that nation as is sails into the city.
Liverpool's Director of Culture, Claire McColgan MBE, said: "The Cultural Armada would be the first thing a global audience would see of Liverpool 2022. And what an image it would be - a river filled with ships, each with the flag of a different nation sailing into one of the world's most iconic waterfronts at sunset.
"The cultural programme is at the heart of our bid - it will tell the story of Liverpool and the Commonwealth, what binds it together and what makes each nation so unique, and will in turn create a programme of extraordinary moments in unexpected places."
The opening ceremony itself would take place at Anfield Stadium, giving more than 50,000 people the chance to be part of a key moment in Liverpool, and the Commonwealth's, history.
The ceremony would be a spectacle of light, pyrotechnics and sound - mixing small intimate moments with experiences on an epic scale.
Each competing nation would have its own 'Cultural Embassy' in the city - a building which would be taken over for the duration of the event as hubs dedicated to showcasing art, culture, music and food from each nation. Each night, these buildings will be lit up to create a fortnight long festival of light, the likes of which has never been seen before in the UK. Artists from each country will design a light-show for the venues which could include
the likes of the Philharmonic Hall, The Black-E, St Vincents School or St George's Hall.
Liverpool is going head to head with Birmingham to become the UK's nomination to host the 2022 Commonwealth Games. A decision on the UK's preferred city is due to be announced next month.