Donald Trump Spotted In Blackpool!
19 October 2017, 15:36 | Updated: 19 October 2017, 15:44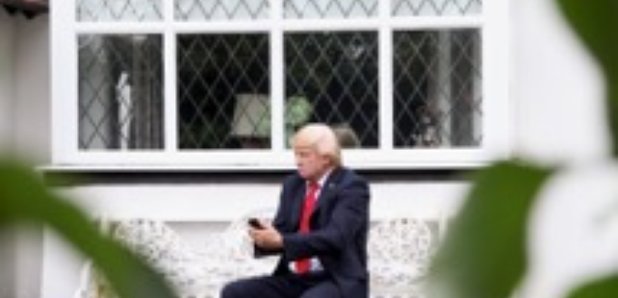 To mark his visit, the world famous landmark The Blackpool Tower was spectacularly transformed into a dazzling, golden Trump Tower, signalling his arrival as a wax figure at Madame Tussauds Blackpool.
He was snapped on arrival at the White House B&B with his body guard and seen sitting outside on a bench, "tweeting" about his visit, while his protector looked on.
Later in the day, the President was also seen in the cosy White House kitchen having a cup of tea. Pictures also showed Trump getting ready in a bedroom at the White House. The President is seated on a bed while 'Melania' is getting ready in the bathroom next door.
Trump will be staying at Madame Tussauds Blackpool for the next few months offering visitors the chance to pose alongside the world leader, view his famous hands and sit next to him as he works at the Oval Office.
The figure is seated behind his desk with mobile phone in hand as he tweets away. Visitors can even answer his signature desk phone to find out who is calling him!
General Manager, Matthew Titherington, said: "We are really excited to welcome Donald Trump to the attraction and give visitors the opportunity to pose and take selfies with the world leader as well as experience presidential life in the Oval Office. It's a once in a lifetime opportunity to get up close and personal to him and try and spot what he's going to be tweeting out next."
The creation of a wax figure is a lengthy process and making Trump's was no exception. Working from photographs, the talented team at Madame Tussauds took four months to perfect the figure. In total it takes an experienced 20 strong team of sculptors, colourists and hair stylists to complete the figures, which each one costing £150,000.