Drug smuggling prison officer jailed
5 September 2018, 11:57 | Updated: 5 September 2018, 11:59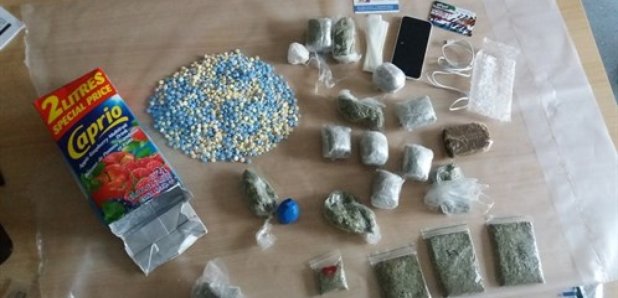 An experienced former prison officer was jailed for a total of nine years today, Wednesday 5th September, for drugs offences, money laundering and taking prohibited items into a Liverpool jail.
The jailing of 43 year-old Paul Heap, who had been a serving prison officer with 15 years' experience, followed a joint investigation between Titan, the North West Regional Organised Crime Unit, and Her Majesty's Prison and Probation Service.
Paul Heaps Sentencing
On Wednesday 28th June 2017, Heap, 43, of Hartley's Village, Liverpool, was seen to enter HMP Altcourse in Fazakerley carrying a rucksack. In response to intelligence Security governor Mark Jones instructed Heap to be stopped and searched.
Staff from Titan's Prison Corruption Unit attended the prison, supported by uniformed staff from Merseyside Police, and Heap was arrested on suspicion of possession with intent to supply drugs and money laundering.
His rucksack, upon being searched, was found to contain a number of orange cartons, in which was concealed a quantity of Class A and Class B drugs (including crack cocaine, cocaine, cannabis and Spice), together with a mobile phone and a number of sim cards. The value of the drugs was estimated to be in excess of £215,000.
A subsequent search of Heap's car and house revealed over £11,000 in cash hidden in various locations including a garden shed.
Heap pleaded guilty to 11 charges including:
PWITS class A x 2 (Heroin and cocaine)
PWITS class B x 2 (Cannabis)
PWITS class C x 3 (Steroids)
Convey a prohibited article x 3 (Phone, sim card and charger)
Money laundering
Paul Heaps Sentencing 3
He was sentenced at Liverpool Crown Court today, Wednesday 5th September.
Paul Heaps Sentencing 2
Director of HMP Altcourse, Steve Williams, said: "Today's verdict sends a strong message to those inside and outside of the prison that no-one is above the law. I'd like to thank my team and North West Regional Organised Crime Unit for their exemplary work in blocking this significant drug trafficking route.
"We expect the highest standards of integrity from our team and if there is any suggestion a member of staff has undermined the good work of their colleagues we will always take swift action."
DCI Chris Mossop, Head of Titan Prison Corruption unit said: "This is yet another example of the fantastic collaborative work between Titan and the Prison service.
"This sentence is a message to those prison staff who are considering taking contraband into prison. Titan continues to set dismantling prison corruption as a priority and with staff dedicated to investigating prison staff suspected of being involved in the supply of drugs and contraband within prisons if they are convicted they will be looking at similar lengths of sentence.
"In this particular matter Paul Heap acted with complete arrogance. Not only did he feel that he could pay off his drug debts, whilst reducing his working hours and going away on expensive holidays by supplying drugs to this prison, he also knew first hand of the dangers drugs have in prisons, putting his colleagues at risk of serious assault and prisoners at risk of possible death. He also showed no regard for the safety of prison and in turn the security of the community as a whole."