Fashion Designer Joins Fracking Demo
16 October 2018, 17:28 | Updated: 16 October 2018, 17:32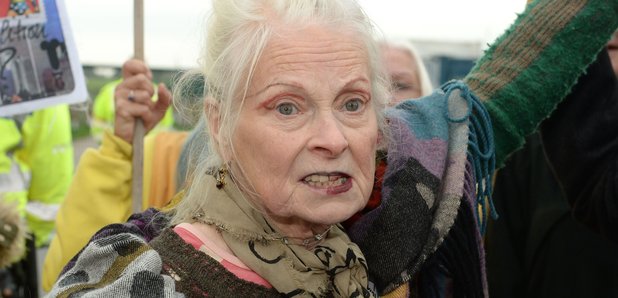 The fashion designer showed off her moves to ABBA's Dancing Queen - which Theresa May danced to before her Conservative party conference speech - as she joined activists outside energy firm Cuadrilla's site on Preston New Road in Little Plumpton, Lancashire.
The firm began hydraulic fracturing at the site on Monday - the first time fracking for shale gas has taken place in the UK since 2011, when it was halted after it caused two small earthquakes in Lancashire.
Dame Vivienne, 77, joined protesters along with her son Joe Corre, a businessman and environmental activist, and brought along prayer flags which she said showed the way climate change could be halted.
She told protesters: "I'm here guys because I'm going to save the world from climate change.
"I've got a plan and I'm the only person who's got a real strategy of something easy to do."
She said she had designed a set of playing cards which set out a strategy to stop climate change and one of them, the three of diamonds, represented fracking and showed three snakes' heads.
Dame Vivienne said: "Snakes are about poison and all the crap that happens every hour of the day, of the week.
"This is what it is all about, all the confusion and the poison that we get from fracking.
"This is what we've got to stop because we have got to save the world."
She met protesters who have been demonstrating outside the site, some for the last 18 months, and praised their work.
She said: "I think it's just amazing. I think it's absolutely heroic and wonderful.
"If I can speak on behalf of the world, I thank them for everything they've done and every minute of their life that they are doing their heroic protest."
Cuadrilla plans to continue fracking at the site for three months to test the flow rate of the gas produced.
Police closed off the road outside the site on Monday as activists gathered as the process started at the site.
The work had been due to start on Saturday but was delayed by the effects of Storm Callum.
It followed an environmental campaigner failing in a bid to halt the work at the High Court on Friday.
At the hearing in London, Mr Justice Supperstone dismissed Bob Dennett's application for an injunction preventing the company from fracking the UK's first horizontal shale gas well pending his proposed legal challenge.
Mr Dennett claimed Lancashire County Council's emergency response planning and procedures at the site were inadequate, but the judge ruled there was not a "serious issue" to be tried which would justify an interim order.