Fire Crews Attacked On Bonfire Night
6 November 2017, 15:47 | Updated: 6 November 2017, 15:52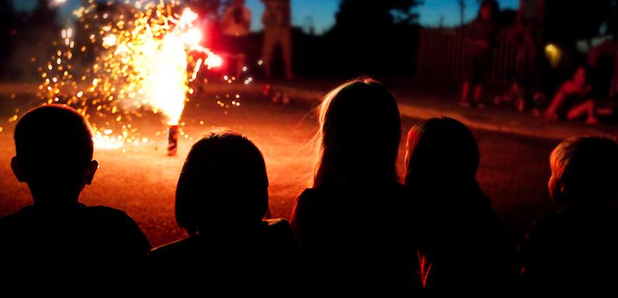 Almost 400 people made 999 emergency fire calls as Greater Manchester experienced a busy Bonfire Night which included a number of attacks on firefighters across the area.
More than 50 fire engines with either four or five firefighters on board each were on duty but many of them faced hostilities and attacks during the evening, with the most serious incidents including fireworks and bricks being thrown at crew.
At the height of the evening, GMFRS revealed that so many calls were received that half the service's total resources were deployed.
Serious incidents of note included a fire at Littleborough Cricket Club which broke out at 6.40pm and a house fire in Bolton which began when smoking materials set a roof on fire. There were several vehicle fires and road traffic collisions although no one was seriously hurt.
Fireworks were pushed through letterboxes and thrown at crew, including in Bolton where the Mayor of Greater Manchester Andy Burnham was riding out with crew and witnessed hostilities at first hand.
Mayor of Greater Manchester Andy Burnham said: "The hostilities I witnessed against our firefighters last night are fundamentally unacceptable. These are men and women who are putting their own safety on the line to keep us and our communities safe. I call on the police to do everything they can to find those responsible and call on anyone who knows who these mindless individuals are to do the right thing and hand them in."
Other attacks on firefighters happened at 6.10pm in Sandal Street, Newton Heath, when fireworks were thrown at crew.
In the run up to November 5, traditionally the busiest night of the year, Greater Manchester Fire and Rescue Service raised the issue of firefighter attacks and urged people to enjoy Bonfire Night in a safe and respectful way.
Deputy Mayor of Greater Manchester Beverley Hughes condemned those who attacked firefighters working to keep people safe.
"Our firefighters did a tremendous job in difficult and demanding circumstances. It is completely unbelievable and unacceptable that firefighters should come under attack when trying to keep people safe. Our message is clear: we won't tolerate attacks on our firefighters under any circumstances and those responsible should be ashamed. We raised this issue in advance and yet some people still found it funny to throw fireworks and missiles at our crews. It is despicable behaviour."
In addition, the Service asked people to attend organised bonfires and fireworks displays and many people did, with huge attendances at the area's three most well-known and biggest displays. A total of 42,000 people attended Heaton Park, 35,000 at Platt Fields and 16,000 at Wythenshawe Park.
Deputy Mayor of Greater Manchester Beverley Hughes added: "Attending an organised display is safer and helps us cut down the number of private bonfires that cause people concern. We would like to thank everyone who acted responsibly and enjoyed bonfire night. It is a great tradition in this country but unfortunately spoiled by a few mindless people."