Five day strike called by hospital staff
21 June 2018, 13:21 | Updated: 21 June 2018, 13:23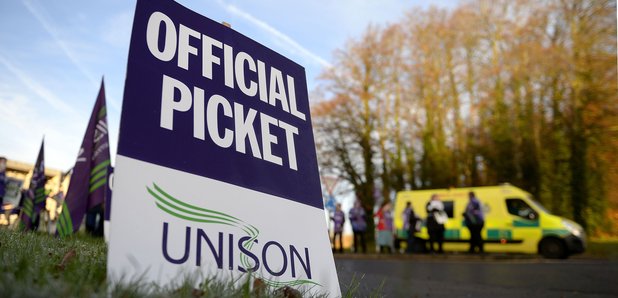 Health workers are gearing up for industrial action in protest at increasing numbers of contracts being outsourced to private companies.
Unison said a growing number of NHS Trusts were setting up subsidiary companies and transferring cleaning, maintenance and back office jobs.
Trusts were moving across the lowest paid workers but could start switching medical staff to the so-called subcos, the union warned.
Staff being transferred have most of their terms and conditions protected but new starters are employed on different contracts and are not enrolled in the NHS pension scheme, officials said.
Strike action will be taken at the Wrightington, Wigan and Leigh NHS Foundation Trust later this month by members of Unison and Unite, which represents electricians, plumbers and fitters at Wrightington Hospital, Wigan's Royal Albert Edward Infirmary and Leigh Infirmary.
The Trust is proposing that the workers' jobs will be outsourced to a subsidiary company WWL Solutions Ltd.
Disputes are also brewing in other parts of England, including Yorkshire.
A Unison official said: "Tens of thousands of NHS jobs on decent terms and conditions are at risk from this spate of companies being set up across England.
"People are proud to work for the NHS, they don't want to be transferred to a private company."
Unison officials suspect the increase in outsourcing is being driven by the Government and warn of the potential for a two tier workforce being set up.
Unison head of health Sara Gorton said: "The amount of public money being frittered away on transferring NHS staff to private companies is a disgrace, especially at a time when there's such a huge squeeze on resources.
"These wholly owned subsidiaries are creating a two tier workforce where new staff are likely to be far worse off in terms of their pay and pensions.
"There is also no evidence that these new companies improve efficiency or productivity.
"Porters, cleaners and other staff chose to be part of the NHS team, not to be contracted out and treated like second-class employees."