Gun Victim Dad Supports GMP Campaign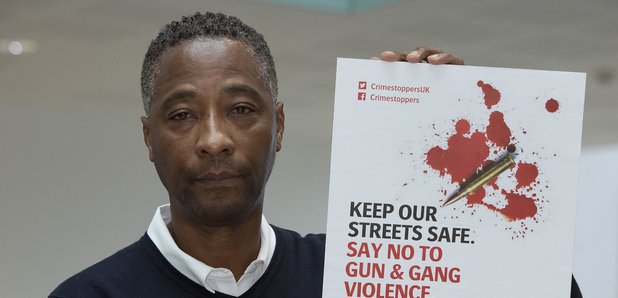 Nine years on from the murder of his son a Manchester Dad is calling for more people to stand up to gun crime. Halton McCollin is now supporting a week of action by Greater Manchester Police.
Halton McCollin junior, was shot dead in Stretford in January 2008. The 20 year old was hit in the back of the head as he ran from gunmen inside the China Garden takeaway on Chester Road on 19 January 2008. He died three days later, on his younger brother's birthday.
His killer has never been caught and a £50,000 reward remains available for information leading to the arrest and conviction of the gunman.
Nine years on, his father's supporting Greater Manchester Police's campaign to get guns off the streets and appealing to anybody with information on his son's murder to come forward.

During the week of action, officers will be visiting gun clubs and licenced firearms holders and warning them to be vigilant and keep their guns secure to reduce the chances of them falling into the wrong hands. Officers will also be doing talks in schools and working with youth offending teams to raise awareness of the dangers of guns. Posters encouraging members of the public to talk to Crimestoppers will also be shared in communities, on social media and appear on the big screens on the Mancunian Way.

Detective Chief Superintendent Mary Doyle from the Serious Crime Division said: "As we've seen in the tragic case of Halton McCollin, guns in the wrong hands can have devastating consequences and we need the public to break the silence and help us to get firearms off the street. "They say time is a healer but nine years later Halton's family are still trying to come to terms with the loss of their son while his murderer roams the streets as if nothing ever happened. "As part of our week of action we are appealing directly to the public to do the right thing and talk to us about illegal guns. One call could be all it takes to stop another family going through the pain and heartache that Halton's loved ones have endured. Illegal guns only help gangs and terrorists but with your information, we can prevent them from falling into dangerous hands and causing further misery. I understand it's not easy to come forward to the police, which is why we're encouraging people to call Crimestoppers instead. They won't ask for your name, only your information."
Halton McCollin Snr, the father of Halton McCollin Jnr, said: "It's been nine years since Halton was taken away from us but in many ways, it feels like only yesterday. It wasn't just one victim that night, Halton's death has affected all of us and there isn't a day that goes by when his family and friends don't miss him or think about him. I support Greater Manchester Police's campaign because it could save a life. You should be able to walk into a takeaway or restaurant without fear of losing your life and somebody somewhere knows who is carrying out these atrocities.We'll never give up trying to find Halton's killer and I appeal to anybody who knows anything to come forward so that we can all live in peace."
To pass on information anonymously to the police about Halton's murder or gun crime in general, call Crimestoppers on 0800 555 111.
Alternatively, call Greater Manchester Police on 101.