Ladies football boss in sexist tweet row
24 January 2018, 16:20 | Updated: 24 January 2018, 16:21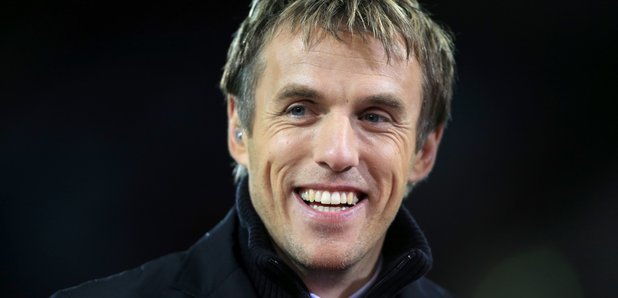 New England Women boss Phil Neville should face the possibility of punishment from the Football Association over "misogynistic and sexist" tweets, Kick It Out has said.
An apology from Neville on Wednesday was drowned out by criticism surrounding the FA's appointment of the 41-year-old, who has never worked in women's football until now.
Neville's tweets from several years ago came back to cause such embarrassment that he had no option but to say sorry and vow they did not reflect his true character.
Anti-discrimination group Kick It Out said it had "serious concerns" over Neville's suitability for his new job, and questioned whether the FA would act over the historic tweets, as it had in other cases.
The organisation's chief executive Roisin Wood said: "In light of recent action taken in response to historical social media comments made by current football participants, the question must now be asked - will the FA be charging Neville for posting discriminatory comments on social media?"
She separately labelled those comments "misogynistic and sexist" and added: "Kick It Out have serious concerns over a recruitment process that has resulted in the appointment of someone with no record of management or experience in women's football."
The FA was accused of getting its appointment "mind-blowingly wrong" by the Female Coaching Network, whose founder said Neville's social media remarks were unforgivable.
Women's Aid condemned a Neville tweet from 2011 which appeared to make a joke of domestic violence.
Former England and Manchester United player Neville was selected by the FA when a host of highly-qualified candidates withdrew from contention.
Neville tweeted in 2012 that he did not expect women to have been reading his posts in a morning because they would be "preparing breakfast/getting kids ready/making the beds".
It was also widely reported that in 2011 he tweeted he "just battered the wife!!! Feel better now!".
Sian Hawkins of Women's Aid said: "What can all too easily be passed off as banter, can actually be extremely harmful. Footballers and managers are often held up as role models in our society, yet sexist attitudes, such as those expressed by Phil Neville, set a worrying example to men and have no place in both women's and men's football."
Mark Sampson's sacking last September came after comments which were later found to be racially discriminatory and "ill-judged attempts at humour" by an independent barrister. He was fired over allegations of "inappropriate and unacceptable behaviour" in a previous role with Bristol Academy.
Vicky Huyton, of the Female Coaching Network group, which includes Olympian Gail Emms among its ambassadors, said sexism should be treated as seriously as any racial remarks.
"Absolutely," Huyton said, when asked about Neville's comments. "I don't think they can be forgivable but the FA should have checked his past social media history rather than putting him in this position."
She added: "I think the biggest thing is just how mind-blowingly wrong the FA has got this.
"This isn't even necessarily about not appointing a woman as a coach: it's about the wrong coach."
In a statement released on an FA Twitter account - his own has been deactivated - Neville said: "Following comments made a number of years ago I would like to clarify that they were not and are not a true and genuine reflection of either my character or beliefs, and would like to apologise."
Sports minister Tracey Crouch said: "While it is not my job to pick England managers, the FA needs to ensure that it has transparency around the process so that fans and football stakeholders alike are confident in it. It is right that Phil Neville has apologised for his ill-advised, historical remarks. Sexism of any kind must not be tolerated."